Why marketplaces: the new favorite online retailer
blog
December 22, 2021
Marketplaces have quickly become an essential part of the retail strategy. Find out why.
What words do online retailers use to help drive revenue? Exposure, assortment, availability; all those words will always be important in today's world of digital commerce. Brands are fighting for space on the digital shelf while traditional brick-and-mortar retailers are looking for innovative ways to meet their shoppers' needs wherever, whenever they are. It is an exciting time for brand manufacturers and retailers with unlimited opportunities to drive revenue. It is also one that can be increasingly complex to navigate as the worlds of commerce blend into a hybrid model with the goal of meeting customer expectations getting higher by the day.
Hello online marketplace.
Growth of e-commerce
E-commerce is set to grow 14.7% compound annual growth (CAGR) between 2020-2027. This brings its value well over $9 trillion (about $28,000 per person in the US) and as a result, online marketplaces are launching across the globe to capture some of that market share.
What is a marketplace?
The model is not too dissimilar to a traditional retail storefront. The main difference is that marketplaces are generally online-only vs. in a physical space (with a few exceptions as Amazon and Wayfair build out brick-and-mortar concept stores). In addition, the hosting marketplace allows fulfillment by third-party vendors.
Traditional retailers typically allow fulfillment to be handled by their own warehouses/distribution centers or the manufacturing brand directly. On the other side, the marketplace allows other vendors who hold a product to fulfill the order. Marketplaces do have stringent requirements when it comes to assortment, fulfillment guidelines, and product content, so not every third-party vendor can simply hop onto a marketplace and become a seller.
Common challenges
Having an accurate representation of products is one of the situations that arise within the marketplace community. Brands want the newest products to be featured and represented accurately, often third-party sellers do not represent the newest products or do not have the freshest content for a given product. This is something that the marketplaces must wrangle through their stringent requirements to make certain there is no duplication of products, past versions of products featured and setting minimum product content requirements to ensure that there is a uniform experience within their e-commerce experience.
Consumers are driving the traction of marketplaces across the globe. More people are gravitating towards new methods of shopping and the pandemic has created a consumer bonanza. Consumers are shopping online, in-store, on tablets, and especially on their mobile devices. In turn, this creates a unique challenge for traditional retailers and marketplaces alike. According to a recent survey of 6,000 online shoppers by inriver, 44% of shoppers started their initial product search on a marketplace. Only 9% started on a brand's website and 19% used a search engine.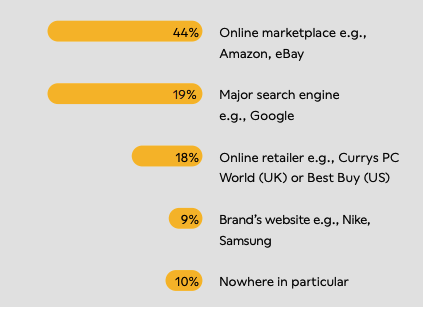 Buying behaviors have shifted over the last few years. In fact, 78% of Amazon searches do not include a brand name. Imagine how that impacts a marketing, search engine optimization, and how marketing and e-commerce teams drive online engagement?
How is consumer behavior driving marketplace growth?
Consumers want options wherever they shop. Gone are the days where a consumer relies on what is within a storefront, instead, the consumer now wants to explore other products within that category. Marketplaces allow for this flexibility and ease-of-use, allowing brands and third-party vendors to highlight their entire assortment of products instead of the limited amount that sit on costly store shelves.

How does consumer behavior drive marketplace growth and transformation?
The growing need to bring the full e–commerce experience to mobile devices
Limited assortment in physical stores drives consumers online for more options
Loyalty for brands and logos is diminished, consumers are after the best quality for the money, so they are more willing to take the time to research and look elsewhere
It is no mystery why traditional retailers like a Macy's or Kroger are shifting more focus to an online presence. Recent reports showing that Macy's will record about $10 billion (about $31 per person in the US) in online sales by the end of 2023, the shift to a broader online assortment naturally makes sense.
Traditional retailers and department stores are taking on the Amazon and European model with the addition of marketplaces. This allows companies to enhance their online offerings while maintaining their identity, and to increase inventory via third-party sellers.
Evolving marketplace strategy
In another unique pivot, retailers and grocers alike are bringing other retailers onboard their online marketplace to bolster their category-adjacent offerings. Macy's CEO explains that the strategy behind the move will "enhance the existing Macy's business, fuel customer acquisition and drive growth across all of our channels." The marketplace is part of the retailer's strategic plan to reposition itself as a digital-first omnichannel merchant." The advantage of marketplaces to more easily expand its assortment in new categories. For Macy's the move is working. In fact, bringing the Toys R Us brand to Macys.com in August has driven toy sales to more than double in-store and online compared to 2019.
The importance of marketplaces is becoming increasingly obvious as traditional retailers adapt to the ever-changing ecosystem. Marketplaces allow an extended reach not only for retailers but also for brands and third parties alike. The bottom line with all of this is that the consumer is driving the story for how we shop. The question is who will adapt fastest to meet customer expectations and who will be left behind?
To learn more about evolving customer demands and behavior and how to meet them, download the latest ebook, "Inside the mind of an online shopper."