The role of innovation in 2020 and PIMpoint
blog
October 21, 2020
Growth comes from innovation, even during difficult times.


The upcoming year will surely hold some unforeseen challenges, and the time to prepare for them with innovation is now. During the last eight months, organizations, individuals, and entire industries have had to find new ways to deliver products and services. It hasn't been easy, but many have found that through new concepts and solutions, a business can not only survive but can thrive during these periods of rapid change.

According to a recent article in Harvard Business Review, "urgency leads transformation" and at the time of crisis, executive focus is available to help drive transformation and innovation. As with any meaningful change, it needs to be embraced by executive leadership. And to be successful long-term, organizational change needs to be fostered. It rarely happens overnight.

At inriver, we have always embraced innovative ways of thinking across our organization. From defining and creating a new market, product experience management (PXM) to solving the challenges of delivering consistent product experiences across channels. We thrive on innovation.

However, that doesn't mean it is easy. When faced with how to host the 8thedition of PIMpoint, our annual usual conference remotely, we had to get creative. The strength of our community comes from the many personal relationships that have been forged in solving new and difficult challenges for our customers. Often, these ideas and solutions come from the sharing of ideas and content at PIMpoint events.

How could we keep the personal connection strong at a digital event? We also had to combine the US and the EMEA events to deliver one global event. And, as digital events have increased 1000% since the pandemic started, there was a lot of competition for attendees, speakers, and sponsors.

The answers came via innovation.

Platform:
A webinar format for a week of content sessions is hardly innovative, or engaging. The inriver events team created a full studio at headquarters in Malmö, Sweden to record and host guests where possible.
The result was that PIMpoint Digital felt like a real in-person event complete with lighting, signage, professional sound engineers, video production, and the world's best moderator, Mats Nilsson.
Customers: Our customers are at the heart of what we do at inriver. How to best deliver content to meet their immediate and future needs at PIMpoint? Pick the best case studies and speakers that can share how they are solving challenges now.

And offer it for free. PIMpoint Digital was free to all attendees this year to ensure everyone had access to the content.
The stakes were high. This meant developing tracks with more than 20 sessions covering digital transformation, customer experience, and relevant customer interviews. Keynote sessions also included inspirational content from industry visionary and futurist Igor Beuker and an innovation spotlight on Creating an Immersive Buying Experience from key partners Threekit and Salesforce.
Partners: inriver partners make the ecosystem vibrant. Their expertise in everything from data models to PIM implementations, to omnichannel commerce mean they have seen it all. The sponsors of the event delivered content that helped attendees learn about the complexities of digital commerce and resources available to address them.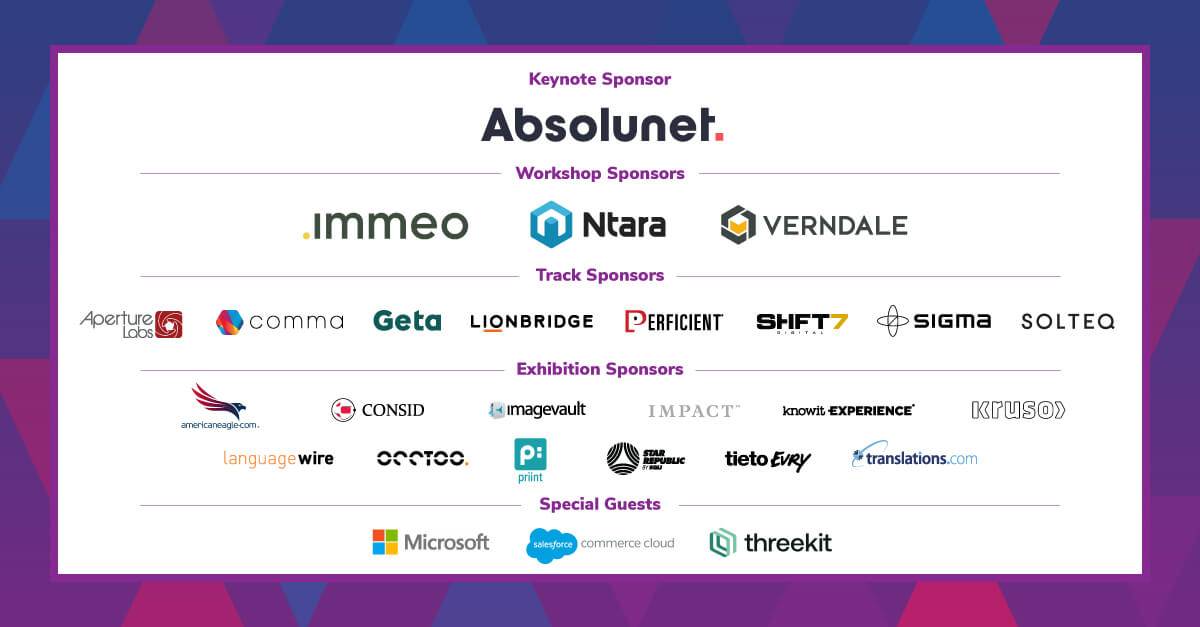 Personal touches: It's imperative for the inriver community to feel connected, especially now. Again, how can that be accomplished at a virtual event? It came down to some of the small things, the personal touches.

We created a mosaic with every inriver team member wearing or holding inriver gear to show we were with you. In addition, we wrote personal invitations and created videos to extend invitations to the event. We wanted to foster connections, especially this year when many felt disconnected from their peers.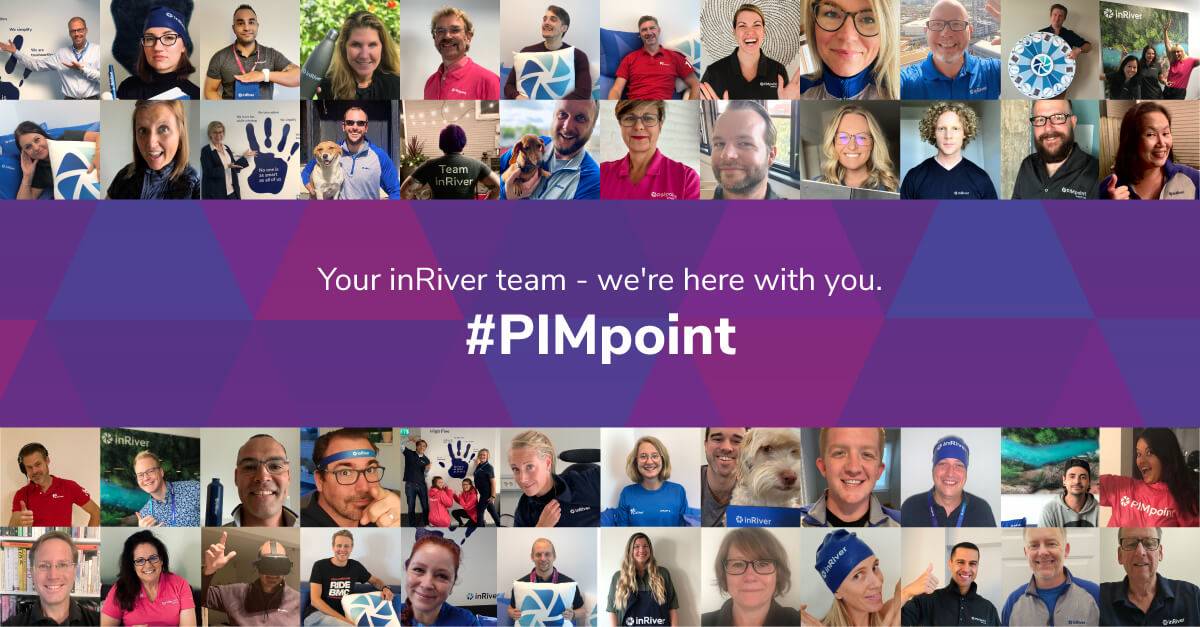 Celebration: What's an industry event without a celebration? Typically at PIMpoint, inriver hosts a large awards dinner, ceremony, and an evening filled with live bands, a DJ, and more. It didn't seem like it was possible to do this remotely and still keep it meaningful.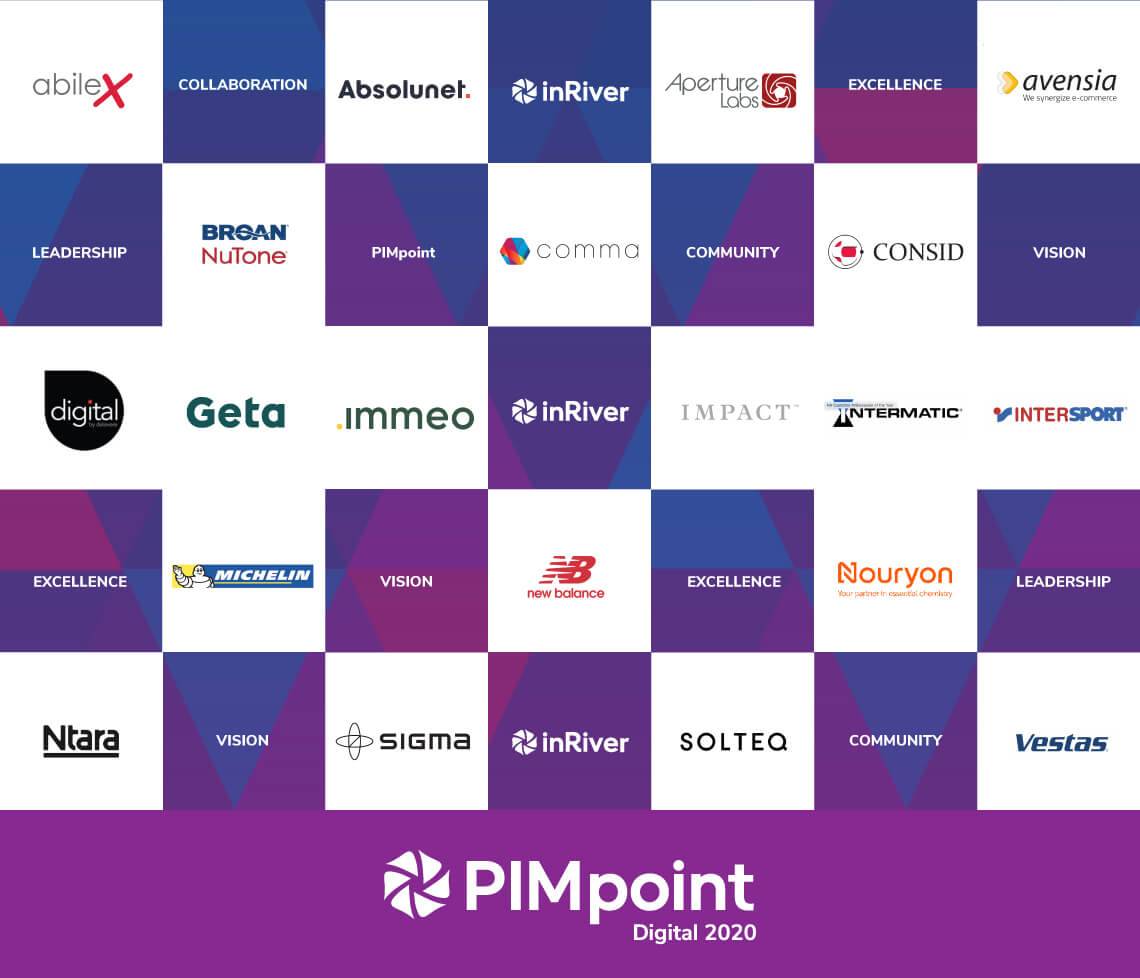 Never say never. The idea for a VR/AR fika (Swedish tradition) celebration was developed. Attendees created their own avatars, celebrated the PIMpoint award winners, drank bubbly, and yes, the DJ (an inriver veteran) still performed via his "studio" in Stockholm. Anything is possible with a little innovation.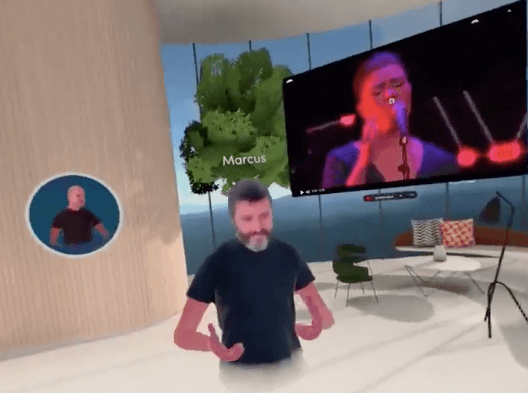 Thanks to everyone who attended, worked on, and supported this year's PIMpoint Digital. It took a lot of teamwork and even more innovation to make this event happen this year. We are looking forward to 2021 and more opportunities to connect with the community. As we like to say #asONE.
If you missed the event or want to watch any of the content, it is available until October 23rdon our site. And it is still free of charge. Here's to innovation and our first PIMpoint Digital. 
Registration is now closed, check out PIMpoint digital for more information.