Tackling time to market challenges with PIM
blog
September 2, 2020
Revenues suffer when time to market is slow or error-prone.


Today, successful businesses derive 25% or more of their annual revenue from new product launches. But bringing new products to market is a process ripe for failure—by some estimates, as much as 85% of new products fail within the first two years. Now add in the unprecedented challenges of a global pandemic, and time to market and scalability increases in importance.
In B2B companies, inriver research shows that heightened competition, time to market, and sourcing product information all contribute to new product failures. In fact, incorrect product information was the main driver of revenue loss during launch: One in three US businesses had products pulled from the shelf over inaccurate product data, and 26% of UK brands admit this is a frequent occurrence.
Slow time to market and pulled product rarely points to a problem in the design and development phase of the new product lifecycle; the problem occurs in the hand-off between R&D and sales and marketing. The major issue impacting time to market is inefficient product information processes, specifically:
Data silos that prevent cross-team collaboration
Inability to source product information from multiple systems and suppliers
Ineffective workflows resulting in incomplete or inaccurate product descriptions and pages
Disorganized methods for distributing product information to new and existing channels
Uncoordinated product storytelling and content merchandising
When your time to market depends on siloed data, manual onboarding, and validation processes, you're primed for delays and pulled products. And this means reduced revenues.
Faster time to market with PIM
Automating your product information processes with PIM eliminates the inefficiencies and stumbling blocks that slow your time to market.
Streamlined multi-source data collection
Most B2B and B2C businesses procure products from several manufacturers and distributors, each of which stores product information in different formats. Internally, essential product data is often siloed in systems such as PLM or ERP.
PIM automates processes to collect and standardize data from multiple sources to ensure consistency in all your product information.
Seamless workflows and cross-team collaboration
PIM breaks down barriers between cross-functional teams so information is accessible, shareable, and synchronized. Product managers, marketing teams, content engineers, and sales managers have access to the information they need to fulfill their responsibilities in the product launch process.
When you have complete visibility of the entire product information journey stored within PIM, teams can create custom workflows, track progress, identify gaps, and prevent information bottlenecks.
Enhanced content optimization
In omnichannel selling, required attributes change depending on the market and the channel. This often involves translations, localizations, and the ability to add, edit, or remove attributes at scale. PIM makes it easy to create and update those attributes quickly without needing IT support.
SEO is the foundation of e-commerce; nearly 90% of B2B and B2C shoppers begin their product search online. PIM simplifies SEO tags and meta descriptions and makes it easy to manage digital assets to enrich your product content for optimal findability.
Better brand and product storytelling
E-commerce in 2020 is all about personalized customer experiences —getting the right information, to the right customer at the right time, and on the right channel. PIM removes time-wasting obstacles so your marketing team can focus on creating the consistent, compelling, channel-optimized content that drives conversions.
PIM also powers adaptive merchandising so customers get relevant product recommendations and the personalized shopping experience they demand.
Accurate, compelling content is useless if you can't efficiently deliver it to all your sales channels. Content that isn't aligned to retailer specifications results in disapproved products and lost revenue when your team is slow to open new channels.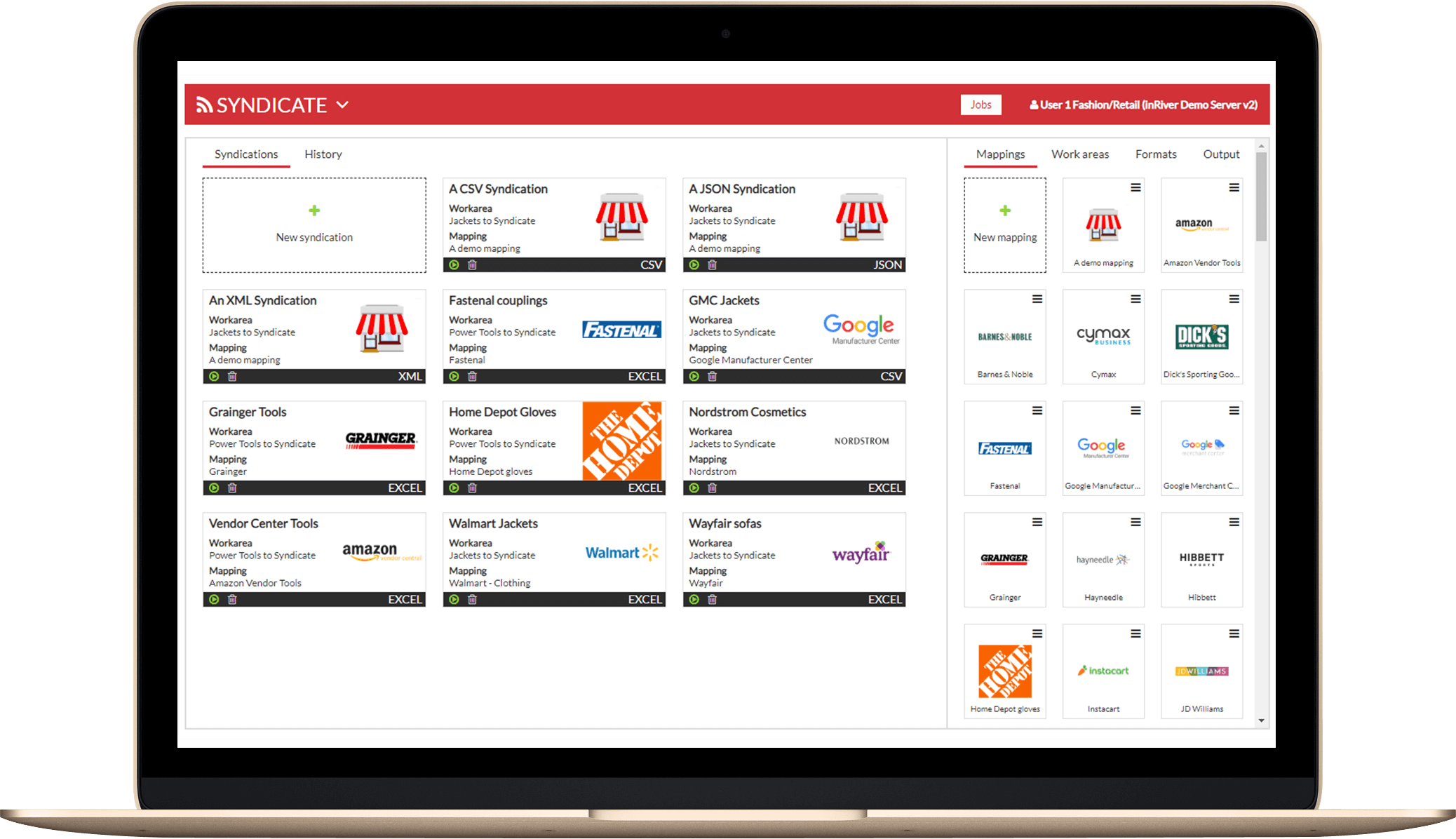 PIM simplifies product content syndication by enabling marketers to edit and adapt product information, plug it into the correct retailer template, automatically map it, and deliver it in the right format to partner retailers and wholesalers. What good is the right channel if the information is wrong?
Want to learn more about solving time to market? Watch the video about how Hamelin brands addressed the "Amazon effect" with inriver.