Restore our Earth Day 2021: charm your customers with sustainability information
blog
April 15, 2021
Help buyers understand your commitments to sustainability
This year's theme for Earth Day is Restore Our Earth™, which "focuses on natural processes, emerging green technologies, and innovative thinking that can restore the world's ecosystems." And as customers increasingly turned e-commerce in 2020, their commitment to sustainability has also grown. Now it's more important than ever for online retailers and manufacturers to use innovative thinking to drive more sustainable practices even as digital marketplaces expand.
Buyers are looking for more information on sustainability, in addition to how and where the products they're buying are made and shipped. During the buying process, they want more transparency — and product information that helps them understand how to make sustainable purchases from retailers. How can your organization improve the buying experience and improve sustainability? Here are twenty statistics that show the role better product information can play in more sustainable and eco-friendly practices for businesses today (and happy customers tomorrow).
Reduce returns
One of the most environmentally impactful setbacks of e-commerce is the seemingly never-ending return cycle.
Shoppers return…15 to 40 percent of what they buy online.
– David Sobie, co-founder and CEO of Happy Returns
30 percent of all fashion related products bought online are returned.
22 percent received a product that was different from what they expected.
23 percent return products because they bought the wrong item.
– Invesp E-Commerce Product Return Rate
Many retailers end up throwing away over 25 percent of their returns…that ends up being over 5 billion pounds of goods that end up in landfills a year from returns.
–Tobin Moore, CEO and co-founder of Optoro
'Serial returners' cost UK retailers an estimated £20bn a year.
Informed consumers make sustainable decisions
Consumers care about the environment and sustainability, so when you provide them with information about the environmental implications of deliveries and returns, they may make different decisions. Decisions that could save businesses millions and also deliver a positive impact on the environment.
Younger buyers (ages 16-44) in the UK and Germany say sustainability is key in decision making for a majority (69%) of Brits and (71%) of Germans.
21% of UK consumers consider key sustainability factors when committing to a purchase: sustainable packaging (6%) and materials (6%), ethical production (5%) and carbon footprint of delivery (4%).
63% of respondents aged 16-34 would reconsider the amount they return if retailers were transparent about the environmental impact of returning a product.
– inriver Sustainability Study
Globally, nearly eight in 10 consumers surveyed say they value sustainability.
Over 70% of these respondents would pay, on average, 35% more for eco-friendly brands.
– Barron's Study
The majority (73%) of global consumers "would definitely or probably change their consumption habits to reduce their impact on the environment."
– Nielson study: Consumers Buy The Change They Wish To See in The World
Product packaging matters, too
55 percent of US survey respondents report that they are extremely or very concerned about the environmental impact of product packaging.
60 to 70 percent of consumers said they would pay more for sustainable packaging.
35 to 36 percent of respondents would buy additional sustainably packaged products if they were more available in stores, available for more products, and better labeled (to indicate green packaging).
–McKinsey: Sustainability in packaging: Inside the minds of US consumers
More than half of consumers would pay more for sustainable products designed to be reused or recycled.
83% (of consumers) believe it's important or extremely important for companies to design products that are meant to be reused or recycled.
(72%) of respondents said they're currently buying more environmentally friendly products than they were five years ago.
– Accenture Survey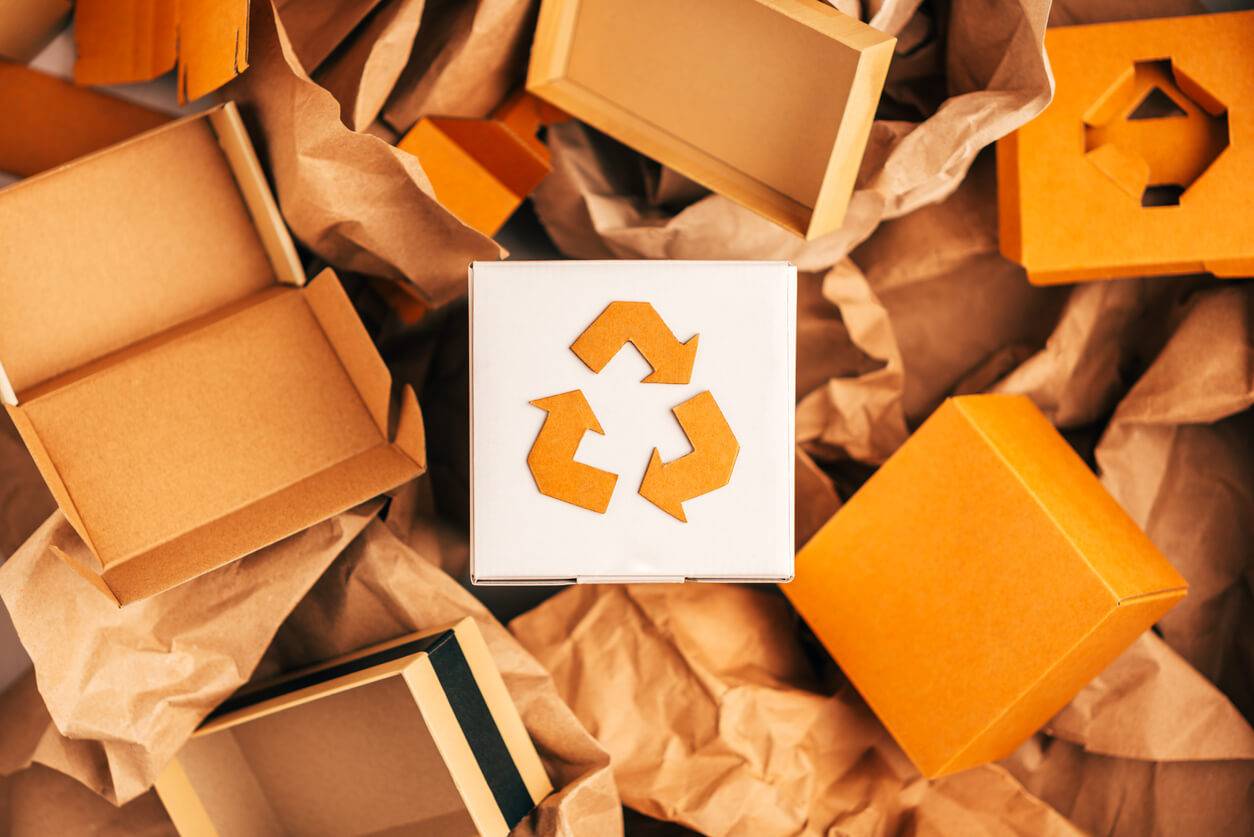 Reduce return shipping impacts & increase customer satisfaction
Consumers have come to expect fast and free shipping, but they also want free returns that are hassle-free. That's a challenge for most businesses because return shipping is expensive and error-prone. Increasingly, retailers are adding in-person drop-off options, which can increase foot traffic in stores, and can change smaller, more frequent return shipments into fewer, consolidated shipments. This is better for the environment and the bottom line.
Forrester found 56% of shoppers were "Much More Likely" to shop with online retailers that allowed for an in-person return (no printing, immediate refund, and free) and another 26% were "More Likely."
– Happy Returns
80.8% of retailers in a Digital Commerce 360 test shipped products in a reusable package – one that can be reused for return shipping.
– FedEx
All these statistics show that consumers rely on product information— photos, descriptions, size information, and sustainability practices — to make buying decisions. When they don't get the information they need, they may abandon the purchase or return products that don't meet expectations. At the same time, they're increasingly concerned about sustainability, so when you provide better information about how your business addresses sustainability concerns, they are more likely to continue shopping with you.
Consumers want transparency in product information because it helps them support causes that are important to them. Increasingly, businesses across industries such as H&M, Hamelin Brands, and Patagonia are focusing on sustainability in manufacturing and production; in addition to improving these practices, brands also need to communicate how they are using sustainable best practices. Buyers are looking for this information to help them put their money towards purchases that support brands that think as sustainably as they do.

Watch this webinar with Forrester Research and Zurn Industries to learn how product information management can solve critical business challenges and improve customer experience: Why the ROI of PIM is Measured by More than Just Revenue