4 ways PIM elevates your in-store experience
blog
September 29, 2023
Think PIM only helps your digital shelf? Think again. Here are just some of the ways PIM can elevate your in-person experience.
Product information management solutions are often seen in the context of e-commerce and digital sales and marketing. The digital shelf is highly dynamic with many moving parts. The right PIM solution helps brands manage digital touchpoints with ease and efficiency. In fact, one of the key benefits of PIM is its ability to translate the in-store shopping experience to the digital shelf. But what can PIM do to elevate that physical in-store experience that brands seek to replicate?
Whether it's a store, a showroom, or even a stock catalog, fully integrating your in-person sales with your digital sales takes your business to the next level. Both B2C shoppers and B2B buyers are looking for a consistent and compelling product experience across every omnichannel touchpoint. That includes your brick-and-mortar locations. Let's explore the role of PIM in driving better performance of your in-store activities. Here are 4 ways PIM elevates your in-store experience.
1. PIM builds a seamless omnichannel product experience
Gone are the days when customers only see your products when they set foot in your store or showroom. These days, the digital shelf is just as influential as your physical shelves, which means the buyer journey is more multi-faceted than ever before. Customers will come into store at different stages of their purchasing process. Some will simply be browsing. Some will browse before going online to see if they can find a better price. Or, some will come in-store to try out a product they've seen online. This is especially common for larger purchases like appliances, cars, and industrial products.
Whatever their intent, it's essential you show potential customers a consistent and coherent product experience at every touchpoint, both physical and digital. If in-store products don't match up with their digital listings (or vice versa), customers will be left disappointed. Worse still, they'll quickly lose trust in your product and your brand. However, with PIM, your in-store customers can not only touch and feel your products but, with a scannable QR code on the product label, they can also access the entire ecosystem of information and content that supports your products, such as attributes and add-ons. PIM ensures that the product details match no matter which shelf that product sits on. This is a core benefit of PIM, providing a single source of truth that can push product data updates to all endpoints at once.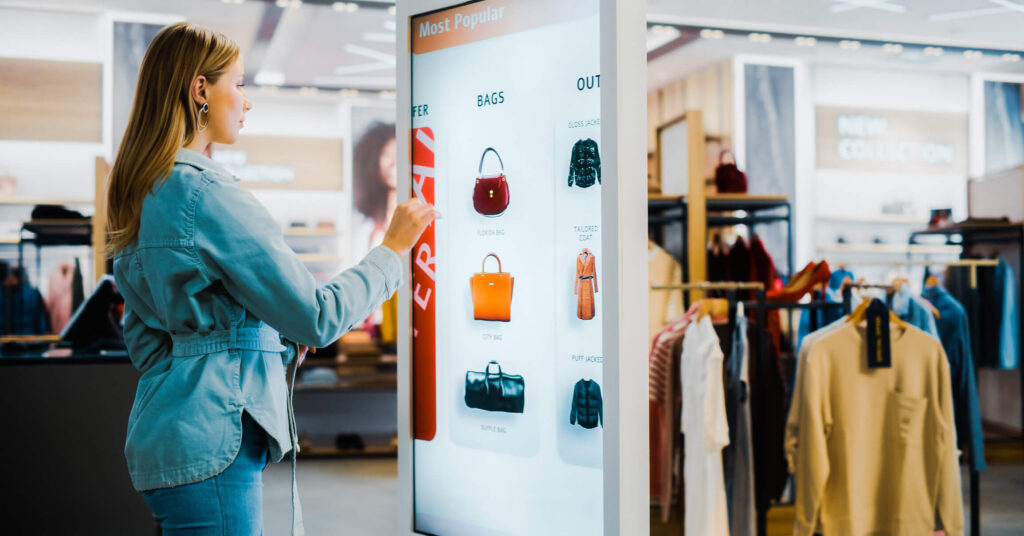 2. PIM facilitates a self-service buyer journey
Being followed by an attentive sales assistant is not always what customers prefer. In fact, according to research, 81% of customers want more self-service options. However, fewer than 11% of businesses are prioritizing smarter self-serve technology, despite the many benefits it can bring. Indeed, having self-serve terminals in-store can free up your sales staff so they can offer a more meaningful service to buyers who require expertise or advice.
PIM makes it significantly easier for businesses to roll out accurate self-serve tools. With a PIM in support, businesses can rely on these tools to provide customers with accurate, up-to-date information. For example, many B2B brands and manufacturers have self-service product catalogs available in store. These digital catalogs offer buyers all the product information they need. This could include dimensions and technical specifications, in-store shelf locations, or alternative outlets should the product not be in stock.
3. PIM ensures accurate inventory and pricing management
Unpredictable and unreliable data surrounding inventory and pricing can cause major frustrations for customers. The problem with an out-of-stock item might be obvious, but even an in-stock item can cause issues if it is priced inconsistently across different channels. When balancing the needs of your in-person and online activities, transparency and consistency in all your inventory and pricing data are essential to ensure you don't damage a customer's trust in your brand.
With a PIM solution, any changes to stock levels or prices are reflected in a single centralized platform, meaning every touchpoint is automatically updated with the latest data. This gives brands clear visibility of low stock levels or any inconsistencies in pricing across your channels. Having this information ensures brands can make changes to in-store pricing (if required) or better manage customer expectations should their desired product be unavailable.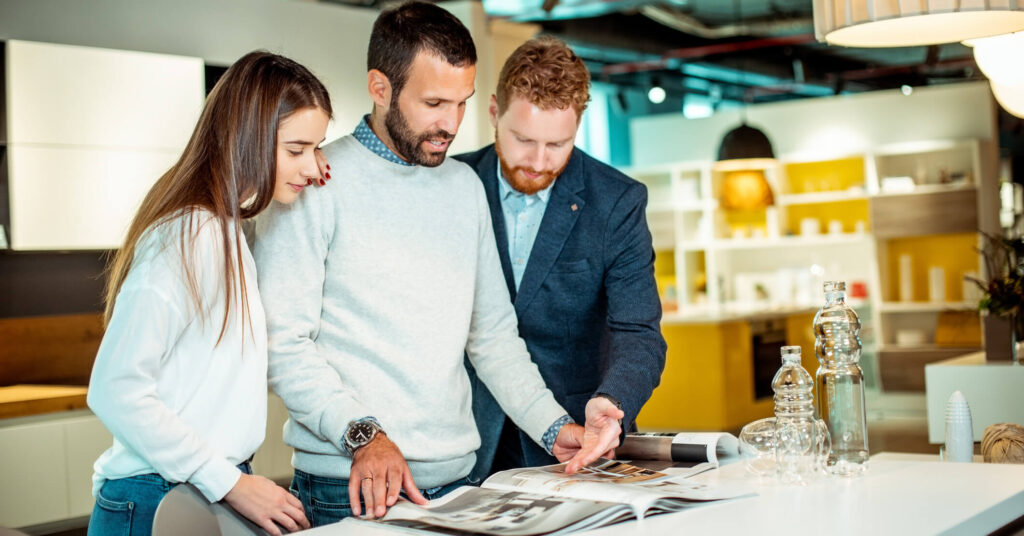 4. PIM makes compliance data accessible in-store
Regardless of whether your business sells products in-store or online, a host of new regulatory considerations are putting more pressure on retailers. The EU's incoming digital product passports (DPPs), for example, will require brands and manufacturers to provide information about a range of product-related data points, such as raw material sourcing, supply chain processes, and much more.
When this initiative is formally rolled out, DPPs are likely to be physically attached to products through QR codes or RFID tags. In this scenario, PIM will make compliance simpler for both customers and retailers. If in-store customers have a DPP-related question, you can simply scan the item – knowing your centralized PIM is always feeding the DPP the up-to-the-minute information.
inriver: The PIM for better in-store experiences
Inriver understands the delicate balance brands and manufacturers face between their digital and in-person channels. That's why inriver offers the most complete PIM solution on the market for all in-store and online sales channels. Our fully composable PIM solution gives you total governance of all your product-related data, ensuring you can always deliver the correct, compelling, and compliant product experiences your customers expect.
With API-based syndication and desktop publishing capabilities, the inriver platform elevates your in-store experiences and creates a seamless omnichannel buyer journey across all touchpoints. Whether it's self-service digital catalogs, high-quality printed product brochures, or more accurate pricing and inventory, the inriver PIM has the tools you need to succeed. Want to see how it all works? Book a guided, personalized demo today.
Expanding the possibilities of PIM
Product information management software is often seen as a key tool for sales and marketing teams. But as the demands on product information evolve, so too does the scope of what PIM software can offer forward-thinking brands, manufacturers, and retailers. From sourcing and design through to after-sales services and recycling, PIM is the complete solution for the entire product journey.
Johan Boström

Co-Founder & Chief Customer Ambassador

Johan Boström is one of the founders of inriver and a senior business leader with two decades of experience leading international technology companies.

read more