How to leverage data for more effective digital commerce
blog
March 25, 2020
Tips to optimize results and revenue with data that can improve performance now.
Clean data provides a strong competitive advantage in digital commerce today. If you are using product information management (PIM) software, you have opportunities to leverage your data by implementing tools that improve digital commerce.
Are you really making the most of your PIM investment? Here are a few digital commerce strategies that depend on good data and can really set your digital commerce apart.
Superior search results
Majority of users start with a search to find what they are looking for and, based on their purchase intent, they are more likely to convert than visitors who don't use search. Here are four ways to improve the effectiveness of your search through the investments you have made in PIM.
Quality results. Visually compelling results are key to a well-performing search. They should be easy to scan for helpful information, which comes from your data. Having great-looking product photography, multiple images per product, well-written product descriptions and detailed product specifications all have a significant impact. Now that you have already invested in your PIM solution, be sure you are leveraging this data effectively in your search.
Faceted search. Faceted search is when you allow customers to narrow their search with attributes (size, price, color, etc.). This is typically implemented with a series of links on the left side of the page that you can click on to reduce the number of choices you are presented with. To offer this, your digital commerce software needs to support faceted search, or you will need to license a 3rdparty search tool. Even with the right tool, your product data will need to be organized appropriately to enable customers to narrow their choices by the attributes that matter most to them.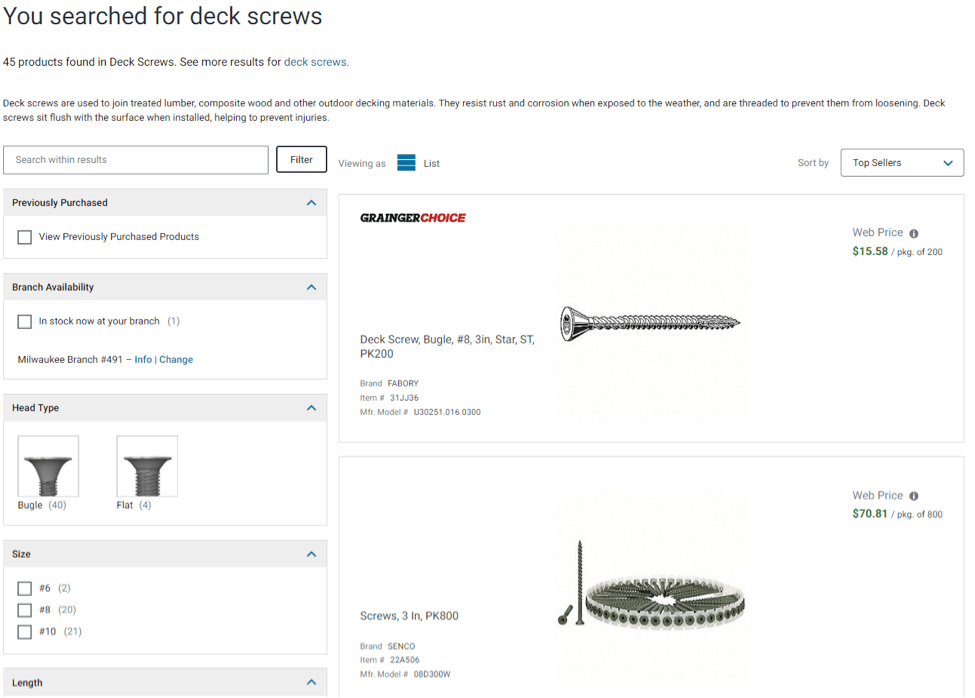 Grainger offers compelling product photography and the ability to narrow search results through facets on the left-hand side of the page.
Multiple types of results. Search results across many digital commerce sites include only products. Increase your engagement and results by offering customers the ability to view content related to their search in addition to product results. This content can pull in spec sheets and product literature that may come from your PIM, in addition to articles and blogs from your website.
McKesson offers both faceted search on the left as well as a resources tab to view related content.
Associated words. Optimize your on-site search by adding related words to your data. This gives your search tool information that won't be displayed to users but is helpful in generating appropriate results. These could be terms that people use when searching for the product but that aren't the actual product name. Most commonly, associated words include misspellings, a generic name for the product (i.e. tissue versus Kleenex), or even a competitor's product name. If using a competitive product name, this should be done not to trick users, but rather, to help them as a user may be confused and may misremember your product name.
Better product recommendations
Increase your average order value by displaying other recommended products under a title like "Customers also bought." If you don't have software that will automate implementing recommendations, you can manually tell your PIM which other products are similar and set up your product pages to display that appropriately. Many software platforms have this capability, but with PIM it's easier for the right people to be able to manage this data.
For many companies, keeping up with these recommendations manually is an activity they don't have time for – both in terms of the initial setup and keeping those recommendations up to date as products change. There are some great software tools that drive these recommendations from data on customer purchases, behavior on the site, and product relationships and categorization, including Episerver, Certona, 4Tell, Rich Relevance, and SLI Systems.
When you have complete and quality data, that's good for machine learning and improves the effectiveness of the recommendations. PIM users tend to have better pictures and product details because it is easier for marketing teams to maintain. Just like with search results, this produces higher converting product recommendations as well.
Added value through content
In a world where you are competing against companies online with larger digital teams and more expensive software, the way you can win customers is through differentiating yourself based on your content. Use spec sheets, product videos, white papers, and articles to provide helpful resources to your customers that make their lives easier.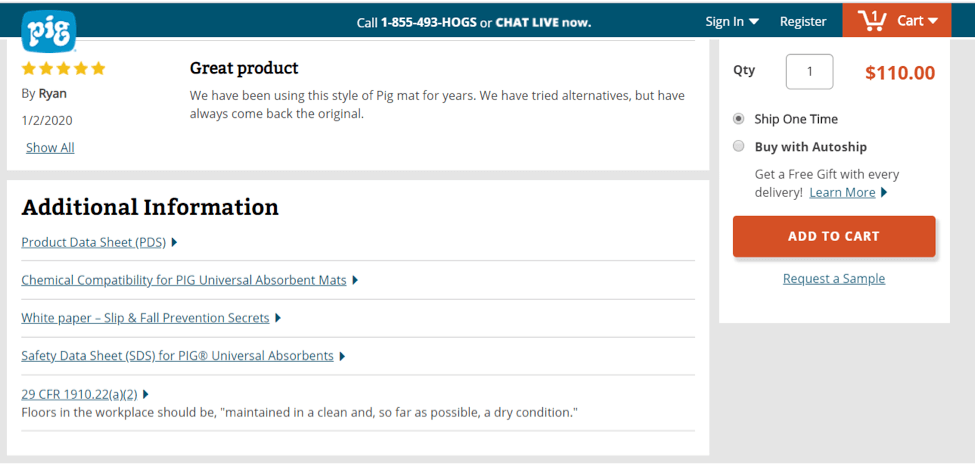 New Pig offers links to various spec sheets and related product literature at the bottom of their product page.
This content can be a headache to maintain and update, but with PIM, the updates you make in one place carry throughout all your channels. Your PIM software enables your marketing team to really leverage the content they have invested time in creating. Ensure that the content your internal team creates can be found on your site product pages and throughout other key areas of your site. You could have a page that lists out all of your spec sheets. You could have another section of your site for how-to videos, but those same videos also appear on the appropriate product page.
Let your data lead the way
If your PIM is implemented well, it is going to reduce the work for digital commerce projects, including an effective search, product recommendation, and strategic content. Are you leveraging your data to improve your digital commerce results?
Not sure which tool to start with? That will depend on how your data is structured and the capabilities of your current digital commerce platform. As a digital commerce developer and inriver partner, we would be happy to review your data and make recommendations for planning out the best approach for your company, reach us here.
About Lori McDonald – guest blogger
Lori is the Founder, President, and CEO of Brilliance Business Solutions. Brilliance is a web development firm that implements results-oriented digital commerce solutions for manufacturers and distributors. In business since 1998, Brilliance is an inriver partner, Episerver Gold Partner, and a BigCommerce Partner Agency. Brilliance is known for their ability to provide clients with the freedom to innovate through empowering and enhancing their internal teams and has delivered successful digital commerce solutions for clients including Partsmaster, Unico, Reico Kitchen and Bath, Kimball Midwest, Graphic Controls, and Gesswein.