How inriver + SAP modernize product information management
blog
August 30, 2023
Enterprise brands face a choice: remain with outdated legacy systems or modernize their tech stack to keep up with demand.
Enterprise brands worldwide are tasked with transforming their operations in the face of rapid market changes. This includes consumer expectations, data complexity, regulatory requirements, automation, and AI, to name a few. These challenges demand a fresh approach to end-to-end business processes—including product information management. Much like the brand whose story we explore here, many businesses are shifting from legacy systems to a new breed of PIM. This modern approach not only centralizes and enriches product data, but also evaluates it across the entire product journey.
Now, as sustainability and traceability attributes take the forefront, forward-thinking brands are redefining their strategies. To thrive in an increasingly competitive marketplace, innovative businesses need to embrace new solutions. The following brand's PIM journey is a blueprint for navigating the shifting tides of the business world.
The problems faced when relying on legacy technology
Amidst the rapidly evolving landscape of commerce, a heritage apparel brand encountered significant challenges in capturing and managing its product information to support its global e-commerce strategy. Previous attempts with legacy Master Data Management (MDM) solutions proved inadequate. A lack of focus on PIM as a core business enabler led to incomplete, inconsistent, and inaccurate data. This not only created consumer confusion but also hampered sell-through, leading to missed opportunities, and revenue loss.
The brand struggled to meet the ever-evolving demands of retail and distribution syndication requirements. This affected its speed to market for new channels and business models. The brand's journey to transformation centered on SAP Enterprise Resource Planning (ERP) as the foundation of its product data management. This was due to its longstanding partnership and extensive use of the SAP product suite. However, the structure of product data storage in SAP ERP and other data sources prevented the expanded use of SAP Commerce to sell across multiple channels.
The path forward with a resilient PIM solution
The brand's aspiration to extend its reach through SAP Commerce necessitated a solution to centralize and enrich product data to sell across diverse sales channels. The brand had several key requirements for its future PIM:
The PIM had to work with the brand's current and future SAP environments to streamline workload and maximize selling opportunities across markets.
Business users desired the ability to configure and enrich product data for sale globally while tailoring data for regional use.
Once data was enriched, the solution also needed to work seamlessly with SAP Commerce utilizing the inriver SAP Commerce Cloud connector.
Product data then needed to be syndicated to multiple channels, marketplaces, and retailers for use on these external platforms.
The brand sought to validate the accuracy of product data displayed across third-party channels as its digital shelf presence is a direct reflection of its brand.
Looking to future-proof its solutions to be ready for the increasing data requirements demanded by customers, employees, and government agencies, the brand needed its PIM to support traceability across the product lifecycle.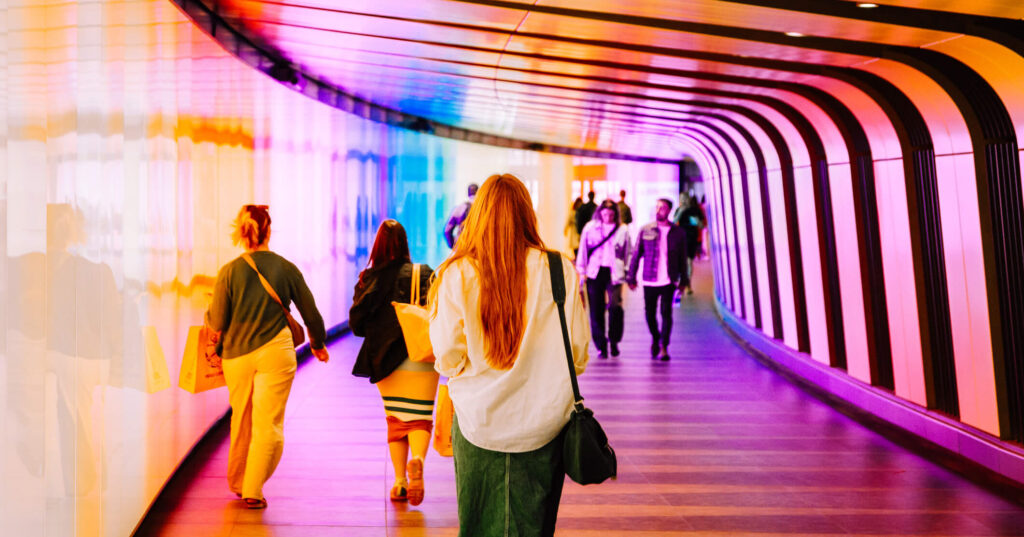 Choosing a future-fit PIM to complement SAP
After careful evaluation of numerous solutions, the brand determined that inriver was the only PIM that could provide all required functionality without added implementation challenges.
Inriver's highly adaptable product data model within a true multi-tenant Software as a Service (SaaS) environment allows for the flexibility the brand needs to feel confident in its investment. The inriver PIM solution empowers business users to configure and enrich product data globally while accommodating regional distinctions. Leveraging AI-driven data enrichment, inriver provided the business with comprehensive and structured product data that met their extensive requirements. The PIM also helped bridge the gap between the brand's SAP-powered back and front offices.
How inriver + SAP power the entire product journey
For brands using SAP, no other solution can power the entire product journey better than SAP together with the inriver PIM. The inriver PIM solution drives value inside and outside of the SAP enterprise footprint with 6 key capabilities:
Removes complexities and barriers to SAP S4's new implementations or upgrades by centralizing product and attribute data complexities related to the brand, market segments, sustainability, traceability, and regulatory requirements in a highly flexible data model configurable based on customer needs.
Hosted in a true multi-tenant SaaS delivery model that is SOC2 compliant and DPP ready.
Seamless inriver-built SAP Cloud Connector as part of our total SaaS solution.
Syndicates to additional SAP CX modules like Sales, Service, and Marketing utilizing inriver APIs.
Syndicates with DSA to multiple endpoints inside and outside the SAP footprint including marketplaces, social, retailers, print, virtual showrooms, and now DPP reporting.
Provides digital shelf analytics to validate information on third-party marketplaces as well as DPP audit reporting.
See these value drivers in action in the graphic below: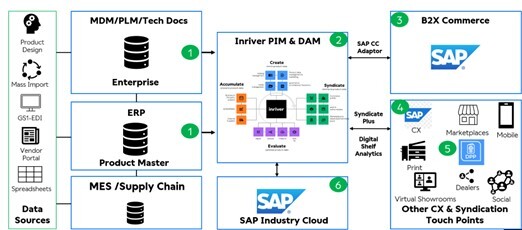 Want to know more about how SAP + inriver can power your organization's entire product journey from source to sale and beyond? Contact us today for a custom demo with one of our experts.