How to prepare for B2B manufacturing growth
blog
August 4, 2020
Technology is one part of the solution.


B2B manufacturing is growing three times faster than all other manufacturing sales according to the 2019 B2B Manufacturing 300 report. E-commerce sales increased by nearly 23% in 2019 compared to just 7.6% for all manufacturing sales. With COVID-19 dramatically changing the way business is done, manufacturing e-commerce is poised for significant gains in 2020…if they prepare the right way.
B2B buyers are embracing e-commerce; the report showed that business buyers in a variety of industries were doing more of their purchasing online. In 2019, the B2B path to purchase started online 75% of the time, with 62% looking for online purchase options; 30% preferred to handle all their procurement online.
The report aligns with Gartner's research on changing behavior patterns among B2B buyers. Gartner found that 80% of B2B buyers use digital information at every stage of the path to purchase and 61% consult the supplier's website during the process. Fully one-third of B2B buyers prefer to complete their transactions without consulting a sales rep.
Millennials are not the only ones who prefer to self-educate. If this is news to you, keep reading.


Many manufacturers, prior to COVID, didn't view their e-commerce portals and online sales channels as a priority. Only 50% of manufacturers and wholesalers have digital transformation initiatives underway, and e-commerce technology was not deemed essential by many.
How can manufacturers hit sales targets and grow their business when they aren't giving B2B buyers the digital commerce options they want?
Technology for better buyer enablement

Gartner found that nearly 80% of B2B buyers rated the buying experience as extremely complex and difficult. B2B purchases often have six or more stakeholders, each of whom requires and seeks out different types of product information; 95% of respondents reported revisiting buying decisions when new or conflicting information emerged.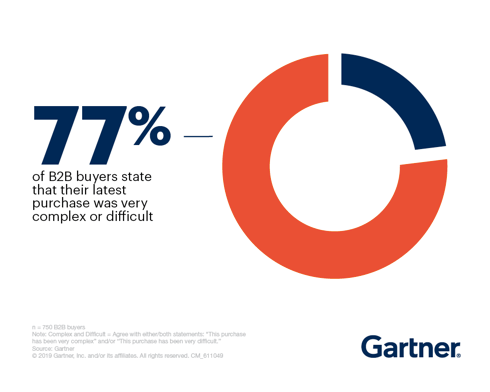 The B2B path to purchase isn't linear. Buyers consult multiple different online sources and sift through reams of often conflicting product information. Only 25% of B2B buyers said the supplier information they received was highly consistent across all online channels. As a result, these buyers spend 15% of the buying cycle reconciling and decoding conflicting information.
Manufacturers that provide accurate and consistent product information, relevant to each stakeholder in the decision-making process, have a huge advantage in capturing the rapidly growing B2B e-commerce market.
A product information management solution (PIM) is at the heart of digital transformation. PIM consolidates product data so that it can be edited, enriched, transformed, and distributed across all channels, ensuring an accurate and consistent product experience wherever a buyer encounters your products. As part of an e-commerce technology stack, PIM integrates with both internal systems such as an ERP and your channel partners' or distributors' systems for a seamless buyer experience anywhere.
B2B buyers expect immediate access to the information they need to research and compare products; they want the same convenient transaction experience as B2C shoppers. For nearly 90% of buyers, brand loyalty isn't enough to keep their business. They would happily switch to a competitor offering a better buying experience.
Overcoming e-commerce hurdles
If it hasn't happened already, the current environment should accelerate e-commerce initiatives for manufacturers. Executives who have been slow to embrace digital transformation are quickly recognizing e-commerce as the shape of the future.
Unfortunately, many manufacturers are married to legacy technology which can't deliver the customer experience B2B buyers demand. Creating and distributing high-quality product information is essential to succeed in digital commerce. With legacy systems, the process is time-consuming and error-prone, often involving spreadsheets, emails to channel partners, and a heavy dose of IT support.
The key is finding future-proof, agile PIM technology for B2B that facilitates efficient product content management and evolves with the changing needs of your business, distribution channels, and customers.
Manufacturers that succeed going forward are those who simplify the buying journey for today's digital B2B buyers. The complexity these buyers experience during the buying journey is rarely product-related. It is most often a lack of consistent, high-quality, cross-channel product information that helps them make purchases with confidence.
B2B buyers prioritize relationships with suppliers who give them the right information at the right time on the digital channels they prefer. Manufacturers who get ahead of the curve and create a connected customer experience between content, product, purchase, and fulfillment are poised to capture the B2B e-commerce boom and endure for the long haul.