Composable concepts for your omnichannel future
blog
March 30, 2022
Omnichannel commerce breeds complexity. Adopting a headless, cloud-based technology approach based on APIs and microservices delivers the agility you need to succeed.
There's a good chance you've heard the terms composable and omnichannel in the past year. Many organizations are embracing the concepts in the wake of the pandemic as a way to help future-proof operations. But what does it actually mean to be composable? And how can using composable principles help organizations gracefully handle the complexities of omnichannel commerce?
The composable business revolution
In this video, Gartner uses the term "Intelligent Composable Businesses" to describe organizations that can "assemble and reassemble their component parts at will". This kind of flexibility enables businesses to respond rapidly and effectively to change or disruption, whenever and wherever it arises. We've been through enough of that in the last two years to recognize the need for agility like this.
Gartner's analysts predict businesses who adopt a composable approach will outstrip their competition's ability to deliver new product features by as much as 80% in 2023.
Let that sink in for a minute…and imagine what 80% faster than the competition could mean!
It translates into revenue. That level of flexibility is essential if you want to be ready to embrace new digital channels and distribution partners as quickly as they arise in an omnichannel sales environment. As your distribution becomes more complex, you need flexible tools to help streamline that complexity and enable scale across the entire organization.
Get your technology working at MACH speed
From a technology perspective, companies who want to be more composable need to ensure their infrastructure meets four key criteria which are summed up in the acronym "MACH":
M is for Micro-services – Look for solutions that allow you to deploy individual features or pieces of functionality separately so they can be changed at-will without disruption to other features.
A is for API – Only deploy technology where the functionality is exposed through an API
C is for Cloud – Choose SaaS solutions with elastic scaling and automatic updates to ensure you're ready for any changes in demand.
H is for Headless – Select solutions where the front-end layer that's presented to users is de-coupled from the backend technology. This allows you to switch out either the front-end or backend for one that better suits your evolving needs, without having to scrap everything.
The MACH Alliance says taking this approach will mean every part of an enterprise is "pluggable, scalable, replaceable and can be continuously improved through agile development to meet evolving business requirements".
It's an attractive vision of the future for companies who are used to monolithic technology stacks. It frees them from the tyranny of a single vendor's product roadmap when they're looking to implement new features and functions to upgrade their customer experience. That's probably why a recent survey of tech leaders commissioned by the MACH Alliance found 79% were planning to increase investment in MACH-compliant architecture over the next 12 months.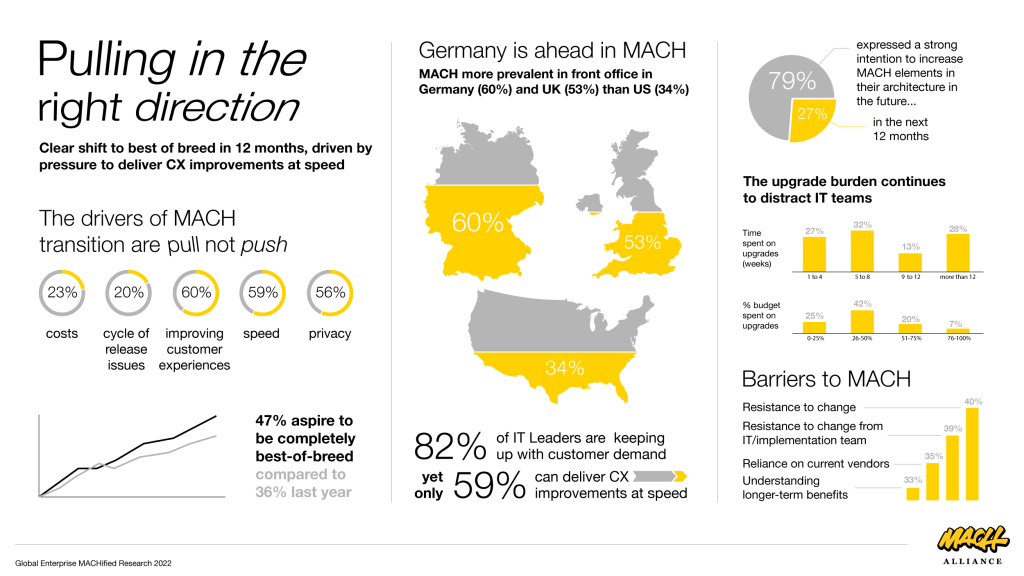 Customer experience and value at the heart of decision-making
Main drivers for this transition aren't about the traditional desire to cut costs. Of those who are leaning towards a more MACH future, 59% said they were driven by the need for increased speed and 56% by privacy concerns. A full 60% said they were moving towards a composable approach to their technology choices because of the resulting improvements in the customer experience.
This focus on the needs of the customer is a key element of composable thinking. Analysis presented at Gartner's TGI (Tech Growth & Innovations) conference in July 2021 urged businesses who want to seize the benefits of composability to abandon a "technology first" mindset that is revenue driven and based on selling products. Instead, it recommended a "client outcomes first" model which offers packaged business capabilities and is mission-driven, using the customer experience as a differentiator rather than competing on price or bare-bones features and functionality.
When it comes to omnichannel commerce, the PIM's role as source-of-truth for all product information makes it an ideal starting place for your business to become more composable.
While moving away from old-fashioned, monolithic architectures and siloed customer functions, composable businesses need to look for technology providers who can become collaborative partners in innovation, not just another vendor.
Applying composability to PIM
These concepts of composability aren't new to inriver. Our Digital-first PIM is composable by design. Our SaaS solution is cloud-based, and inriver's interactions are all governed via API and available as a headless solution today. We've been talking about the benefits of headless commerce for quite some time. However, as we've seen, commerce is continuously evolving, and it's not slowing down. So, now is the perfect moment for organizations across industries and geographies to embrace this new approach to their technology choices.
We are proud to partner with companies such as commercetools and Big Commerce that embrace the MACH principles. Together we have several customers who wholeheartedly embrace the concept of composability and use inriver to help them achieve those goals. As the MACH Alliance puts it, this is the best way to "future proof enterprise technology and propel current and future digital experiences."