Catalyst for change – the Amazon effect
blog
May 14, 2019
Organizations large and small feel the Amazon effect. Embrace change to stay relevant and drive CX.
There is always a catalyst for change and it's Amazon for most retailers, distributors, and manufacturers today. We've witnessed major retailers and brands being killed off one by one; JCPenny, Payless, and ToysRUs. These traditional retailers had been slowly closing stores in regions due to declining sales and difficulty providing a compelling offer or experience to their market. Businesses of all sizes are forced to compete with Amazon as it's driving change in people, process, and technology adoption.
Driving change in the process- (manufacturing, shipping, pop-up stores)
Businesses need to take a new, holistic approach to customer experience, sales, marketing, and processes or face a tragic demise as the Amazon effect takes place. Companies need to position themselves and their brand in a way that Amazon currently doesn't. It's all about the "human approach" in today's marketing world. How can your brand or organization tell a better story? How do you connect with your targeted market on an emotional level? Empathize with them. Create an experience that goes above just purchasing a product or service quickly and easily. Speed and ease of purchase are important, but consumers, especially the younger generations, want to buy the "why" not just the "what" anymore.
And they want to buy differently than most organizations are ready for.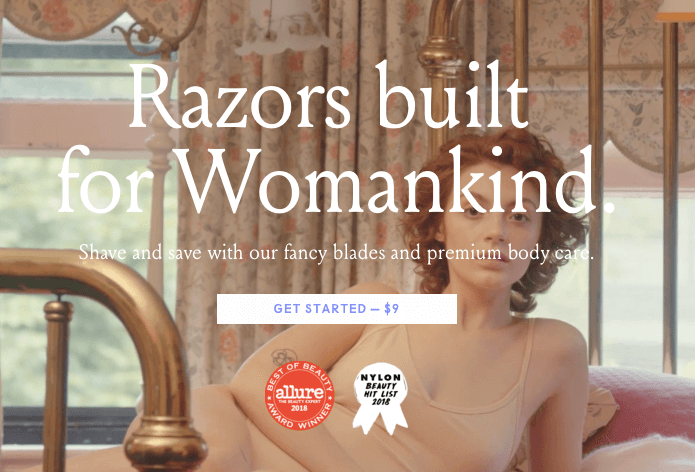 For example, Billie, a shaving subscription service, has created a razor designed specifically for women. Their product offering is simple, to the point, eye-catching, and they recognize and empathize with women around the world who are looking for a better shaving experience. Fast, easy, but also engaging on a human level.
Driving change in people
Amazon Prime membership gives consumers the convenience of maximum of two-day shipping and delivery on their purchases. As the number of Prime members keeps growing, more and more consumers have come to expect that all retailers, not just those selling on Amazon, will offer up a level of convenience that is on par with Amazon's.
But what this means for small, medium, and even larger retailers is they need to now meet and exceed customer expectations. The Amazon effect means that consumers now want products and items delivered on their doorstep in a matter of days, if not the next day. What used to be the norm for delivery of seven to ten business days, has now shifted to one to two days.
Reality check
Now understandably, if a company falls under "small to medium size" the likeliness of being able to expedite items may not be money well spent. However, the expectations have been set.
How can retailers and businesses adopt the "what can we provide that Amazon can't or doesn't" mentality? Rent the Runway, an online service that provides designer dress and accessory rentals really hits the nail on the head with this. While the majority of their sales and consumers are online, Rent the Runway has become omnichannel. They invested in five brick-and-mortar stores across the US allowing clients to book a 45-minute appointment to work one-on-one with a stylist which provides a personalized experience. Try on different options, styles, get a professional opinion, enjoy complimentary champagne, and have fun while doing it. Amazon can't do that.
Driving change in tech adoption
Tech. Tech. Tech. It's everywhere and anywhere you need it to be. And that should include in your business as well. Brands should continuously evolve and innovate when it comes to technology. As marketers continue to expand and build upon their omnichannel strategies, leveraging tech in-store should be, if not already, a primary focus. For consumers who prefer to purchase in-store, brands can expand on the customer journey in a variety of ways. They must think like their buyers and deliver options that meet multiple needs and preferences.
Large restaurant brands like McDonald's, Panera Bread have been leading the kiosk charge. Customers who may be in a rush on their lunch breaks can enter a store, punch in their order, and be on their merry way. Brands also are leveraging the kiosks to take the customer experience even further with the use of AI-driven strategies. If the customer ordered something off the calorie smart menu the kiosk will recommend other calorie-friendly add-ons – perhaps a side of fruit or low-calorie beverage over a bag of potato chips or a soda.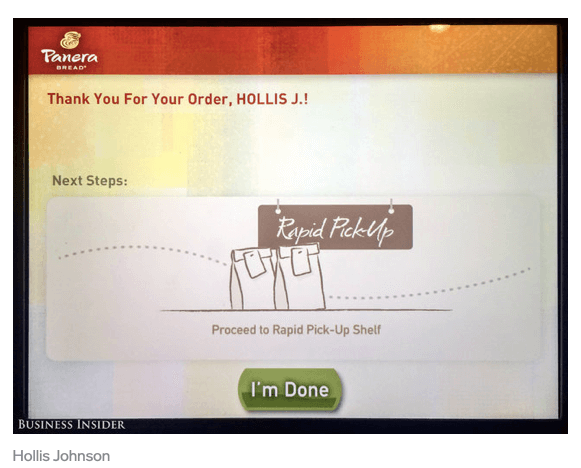 Kiosks aren't only for restaurants. Home Depot just announced their kiosk commitment too. Optimizing something simple like placing orders really goes the distance when the aim is to deliver a better customer experience.
Outside of kiosks, companies can leverage technology by offering a seamless mobile experience. Consumers want to be able to easily find the product they are looking for online and buy right then…without having to physically go to the store. Instagram enabled a checkout option in March to streamline the buying experience and other platforms are following their lead.
Improving the mobile experience is impactful and can drive better customer experience and ultimately, more revenue.
Shopping online with the ability to pick up in-store is another offering that enhances the customer experience. Brands that make this an easy and painless process will win customer loyalty and drive more sales.
With any buying experience, whether B2B or B2C, don't forget the importance of accurate, relevant, and consistent product information across channels. If your product or solution can't be found via search offering engaging and enriched product information like images, reviews, or how-to videos, browsers won't turn into buyers.
The Amazon effect is in full swing. The online retail conglomerate is disrupting every facet of business across almost every industry segment. From retail to shipping, manufacturing, tech, healthcare, consumer packaged goods – you name it Amazon its hands in it. It's a major disruptor in retail and e-commerce both online and off.
Today's organizations can learn a lot from Amazon and adopt some best practices. Don't fear the change, embrace it.
Get your copy of the CMO's Guide to Digital Transformation to learn more about the importance of change.