Building a product category? It takes a community… of experts
blog
October 9, 2019
What makes a community? The people who are part of it. Welcome to the inriver community.
*This post first ran September 18, 2019 via LinkedIn
Growing high-growth, SaaS companies isn't easy, but building an entirely new product category is insanely challenging. The belief that the right technology or a top team alone can achieve global success is convenient but short-sighted. It takes an interested, engaged community to drive success and longevity. It's the community of experts – practitioners who each have their own successes – who create successful product categories and make great companies into exceptional brands.
Successful technology brands from Apple to Salesforce have fostered a nearly-religious fan fervor, a true love of their technology, and have nurtured their own communities of experts to drive loyalty and support innovation.
How? By. Engaging. People. Ideally your customers or your key buying demographic – who care passionately about a common topic – your topic – and relentlessly share ideas and stories around it.
Communities help create and build brands with:
Credibility – social selling at its best, advocating for your brand and product category
Innovation – power-users providing feedback and direction for new solutions, helpful add-ons, and future enhancements
Reduced support costs – active peer-to-peer communities answering questions to solve problems in forums, chat groups, and networks outside of your brand or company
Retention – engaged communities, happy and actively expanding the solution and product
experience
A great community of experts forms a team that contributes, adds value, creates change, and feels a part of something. Welcoming brands keep their doors open, invite feedback, and provide common spaces that the like-minded "we" will seek and embrace
We strive for a community at inriver. We've fostered a global collection of thousands of experts in product merchandising, product information management (PIM), and product categories and markets complementary to PIM. E-commerce, customer resource management, master data management, and data analytics experts all become part of the inriver and broader PIM community.
We highlight our family, our community via PIMtalk podcasts, events, with the Ambassador (Customer) Advisory Board and our Partner Advisory Board. Every voice is encouraged. Every voice counts.
We celebrate our global community at two major events each year. PIMpoint Summit is now well-established in Malmö, Sweden every year in April, and we will host PIMpoint Americas in Chicago September 18, 2019. Twice a year we bring our customers, our partners, and our community of "We" together for interactive sessions, industry keynotes, customer case studies, awards, and a full exhibit hall to mix and mingle, learn, teach, and to have fun.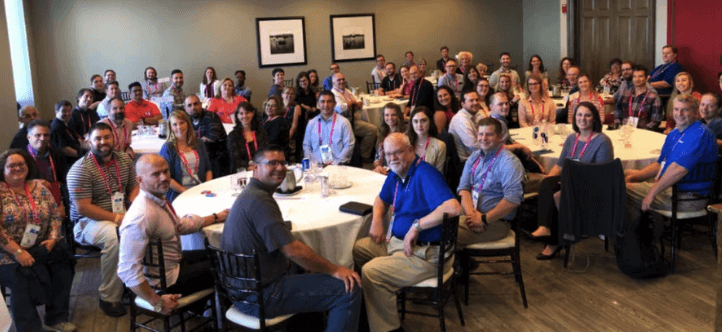 A community makes and breaks a brand. All the time and effort to building and fostering a collaborative community makes great things happen – creates experts and defines your brand.
Be part of the inriver community of "We". We believe we are better together #asONE. I'll save you a seat.