B2B e-commerce: How to define elements of your strategy
blog
October 30, 2019
B2B commerce isn't that different than B2C. Just keep the essentials in mind.
What are the essential elements of a B2B e-commerce strategy? People tend to pigeonhole e-commerce as a B2C enterprise, but in fact, B2B e-commerce dwarfs its consumer counterpart. Globally, the B2B e-commerce market is expected to reach $6.7 trillion next year, with the U.S. share exceeding $1 trillion. Yet 61% of manufacturers and nearly 40% of wholesalers and distributors do not have an e-commerce website.
It's not that business buyers aren't open to shopping online; a recent survey showed nearly 50% of them buy something online at least once a week. U.S. B2B sales transactions processed through an e-commerce portal increased by11% in 2018 to $1.08 trillion.
Certainly, the Amazon Effect has something to do with it. When Amazon Business launched in 2015, it generated over $1 billion in revenue the first year; in 2018, that figure was $10 billion. It's clear that B2B buyers appreciate the same frictionless path to purchase they enjoy with their Amazon Prime membership at home.
Nearly 60% of retail consumers start their product search on Amazon, and 90% research products on Amazon regardless of where they ultimately buy. Not surprisingly, 53% of consumers prefer to buy from Amazon than other e-commerce sites.
These statistics aren't exactly news to B2B brands—or at least they shouldn't be. What is new is what the research says about why shoppers love Amazon: It simplifies every stage of the buying journey. Consumers turn to Amazon for detailed product information, personalized recommendations, unbiased product reviews, transparent price data, streamlined checkout, and expedited shipping.
These preferences aren't limited to retail shoppers. B2B buyers were surveyed about which features were most important in choosing where to buy and reorder supplies for their business. Ease of search and site navigation topped the list with nearly 60% of buyers; detailed product information including images, alternate views, and video was cited by 53%.

How to define your B2B e-commerce strategy:
The Amazon Effect impacts every manufacturer and wholesaler, regardless of vertical. The movement to online self-service ordering is well underway and B2B brands without an e-commerce strategy are seeing decreasing sales, especially those with highly commoditized products.
To compete, a winning B2B e-commerce strategy must go beyond merely marketing to Adaptive Merchandising™—meeting B2B customers at each stage of the buying journey and adapting to their needs.

Prioritize the customer experience:
In the past, B2B brands didn't have to consider the buyer's experience, product specialization, and often geography was enough to drive buyers to a brand. That's no longer the case today, especially in commoditized markets. In an increasingly self-service e-commerce environment, customer experience is critical.
B2B buyers are becoming more like B2C customers: They want a consistent omnichannel experience, seamless transactions, frictionless engagements, prompt order fulfillment, and account service geared to their needs, preferences, and channels of choice.
But it's not easy. B2B buyers typically have at least six different interactions across multiple channels and diverse buying committees involved during the path to purchase. The idea of Adaptive Merchandising means meeting them at each step with the information and functionality they need. The challenges of B2B teams are increasing as channels and marketplaces increase and scale become an issue. However, keeping customer experience in mind is key to success.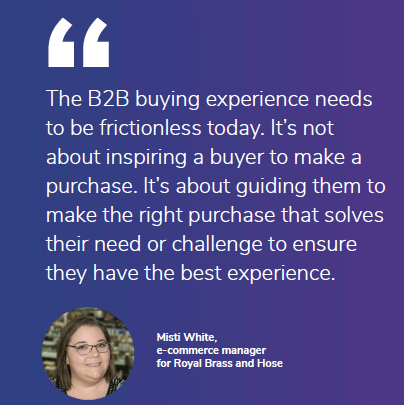 Embrace rich content:
Rich content is unfamiliar territory for many B2B brands. In the past, product information was handled by sales presentations to the end-user. E-commerce has changed all that, so your merchandising efforts must reflect that new reality.
Detailed product information, technical specifications, images, videos, and customer testimonials give buyers the context they need to make purchase decisions. Product content must be optimized and leveraged appropriately to position your brand and product offerings effectively.
Investing in technology to centralize your product information simplifies adaptive merchandising because staff can easily edit, adapt, enrich, and even translate and localize product information, and automatically publish it across your sales channels in the correct format. Rich content also facilitates search and faceted navigation, so buyers can find your products when they're looking for them.
Leverage customer data:
B2B brands have multiple sources of data that can be used to refine your insight into what customers want at each step in the path to purchase. Mining the data in your CRM and ERP can reveal friction points in the customer journey. Armed with the right data, you can anticipate what buyers need even before they're ready to make a purchase decision.
Harnessing this data enables the type of adaptive merchandising that keys in on the customer's questions and concerns when they first encounter your product. When you deliver the right product information in the right format at the right time, you build credibility and earn your buyer's trust.
Remember, the B2B journey is more complex and involves multiple stakeholders, which typically means longer lead times. The rewards are well worth the effort, though. B2B relationships often go deeper and last longer than B2C relationships, and the order values are significantly higher. Brands that get e-commerce right are well-positioned for measurable growth across their digital channels.
Download our latest report, How B2B Companies Solve the Challenges of Revenue and Scale with Better Product Information.