6 ways to maximize conversions on your e-commerce pages
blog
March 3, 2021
Optimize images to CTAs to improve conversions
E-commerce websites cannot overestimate the value of product pages. Every second, your product pages must work hard to turn site visitors into customers, and then into repeat customers. However, getting that first sale is often the hardest.
On average, only 2.86 percent of e-commerce website visits convert into a purchase. A poorly designed product page is often the downfall of these low conversion rates.
This post will discuss small changes e-commerce teams can implement to make a BIG difference in converting website visitors into paying customers.
Leverage large, clear images
Studies show that content supported by relevant images gets more views than content without photos. This finding holds even more weight when it comes to product pages. In fact, larger images convert at a higher rate than smaller images, and using more images is better, especially for product pages. Not surprisingly, better quality images (ability to zoom) also increases conversion rates than lower-quality images.

Best practices for product photos to increase conversions include:
Upload an image that is high-resolution
Feature several images that show the product at different angles
A good guideline size for product images is 1024 by 1024 pixels
Leverage 3D visuals or AR/VR to bring products to life
It can also be helpful to feature product images submitted by customers or clients. User-generated content can help inspire other like-minded customers to buy, lends authenticity to your product, and helps build brand confidence.
Create prominent call to actions (CTAs)
A prominent call to action may be one of the most obvious areas of importance to improve e-commerce page performance.
Popular CTA button for e-commerce product pages include:
Add to cart
Buy now
Shop now
In addition to the text, website developers should take the call to action button's color into close consideration. Ideally, you want the CTA to stand out compared to the rest of the page's color scheme.
Take for example this advertisement from TEDx. The red call to action button grabs your attention against the black and white color scheme.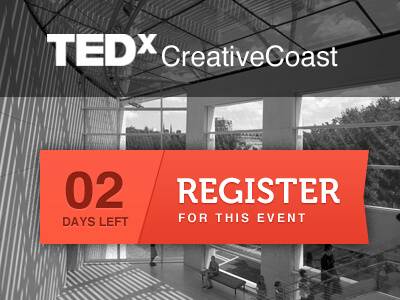 Regardless of what type of call-to-action you use, it must be easily recognizable and, above all else, should encourage the visitor to take the desired action.
Offer easy navigation
Your customer's attention span is dwindling. According to Freelancer.com, websites only have a few seconds to grab someone's attention before they exit the page. With this in mind, an effective navigation system helps site visitors quickly find what they're looking for.
Keep navigation simple. Use breadcrumb navigation to easily identify where visitors are on your website. Especially for e-commerce sites with many categories, breadcrumb navigation allows users to move between product pages without getting lost from their initial point of interest.
Better yet, breadcrumb navigation has many SEO benefits such as:
Improved click-thru-rate
Reduce bounce rates
Search engines easily understand a site's structure to rank pages higher in their result pages.
Keep navigation simple to drive results.
Rely on insights from digital shelf analytics
Once upon a time, product retailers had to spend endless hours scouring websites that hosted their merchandise, such as Amazon and Walmart to obtain performance information. They had to conduct quality checks to stay on top of out-of-stock products, visibility, customer reviews, price fluctuations, product comparisons, and more.
Now, e-commerce websites can leverage digital shelf analytics to track performance metrics across sites quickly and easily. Digital shelf analytics (DSA) platforms enable marketers and merchandisers to optimize product information and performance at scale.
Key benefits of digital shelf analytics include:
Notification when products are knocked off the shelves
Alerts when resellers or partners are misrepresenting your products
Product listing completeness
Share of shelf and rankings
Search rankings
Collecting vital digital shelf data automates the key elements that retailers need to monitor and adjust when selling online. It saves an enormous amount of time, money, and resources and most importantly delivers insights that can be used to optimize products across channels.
Build amazing product descriptions
A product description is messaging that explains what a product is, its features, and why it's worth purchasing. When done correctly, a product's description can be the driving force for persuading a site visitor to make a purchase.
Don't just take our word for it. According to Contentwriters.com, 87% of shoppers rate product content as very important when deciding to buy. How important are product descriptions? Even a small increase in conversions translates into significant revenue. What would a five percent increase in conversions mean to your business? How about almost 50 percent?
Contentwriters.com reports that Overstock.com nearly doubled its traffic in one month by optimizing its product descriptions. Imagine how much revenue that generated?
Building engaging product content for your products doesn't have to be as intimidating as it sounds. Think of product descriptions and content as anything that helps tell and show the buyer what they are purchasing.
Ideas to create more detailed and engaging product descriptions:
Who is the target user of the product? Include images or reviews from your target audience in the descriptions.
Why should visitors buy the product? Show unboxing or demo videos of products in use or on buyers with user-generated content.
How does it work? Provide step-by-step instructions or instructional videos to help buyers understand the product.
What sets the product apart from competitors? Show peer reviews or rankings of the product or offer comparison charts of similar products.
Pro Tip: Each product description should be unique to fit the channel and market. Google will penalize sites that use duplicate content throughout multiple pages. Make sure to localize descriptions so that content is relevant. These details matter!
Create urgency
There is nothing that destroys an online conversion rate quicker than buyer hesitation. Shoppers who spend too much time evaluating purchases online may become uncertain of whether they really need a product. As they pause to think, they become distracted and move on to their next browsing session
Eliminate customer hesitation and leverage the urgency principle. This is a common practice of many online retailers.
Here is an example of it in action by Amazon.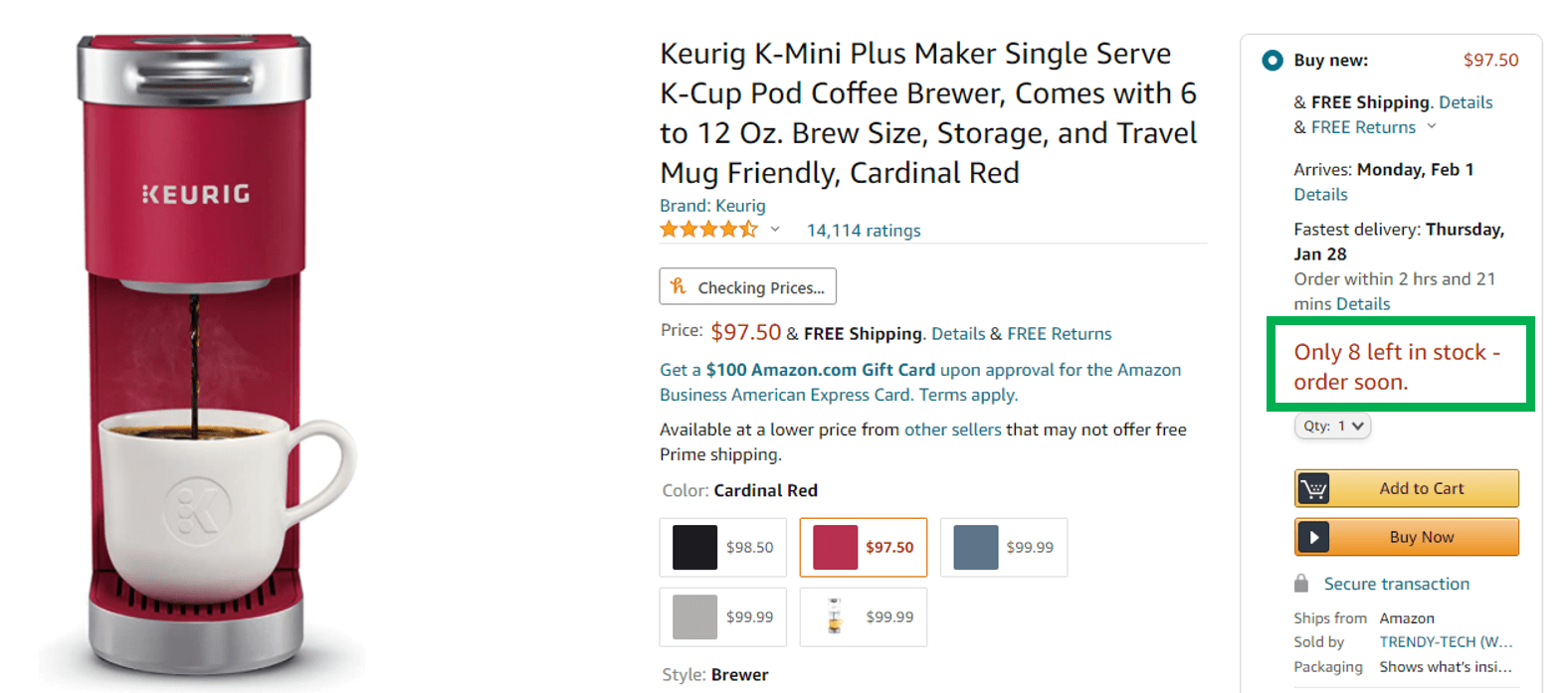 If a product appears to be selling quickly, users will think they have limited time to make a purchase. This encourages site visitors to convert quicker. Whether you implement the urgency principle by marketing last-day offers or one hour of free shipping, a fleeting proposal can give prospective buyers the push they need to purchase. Make sure offers are prominently displayed and close to the purchase button.
Easy does it
From free overnight shipping to personalized experiences, customer expectations are continuing to grow when it comes to e-commerce. Consumers want a fast, frictionless purchase process and that begins with their first experience with your brand, to their last.
The best way to achieve that is to ensure that each and every bit of product information, across channels and marketplaces is optimized to convert. This includes the images used on product pages to the offers and CTAs on-page. E-commerce pages need to engage buyers whether they making a mundane household purchase like restocking lightbulbs or a bigger decision like an appliance. The experience on the product page matters. Make it easy for them to purchase.
To learn more about how to optimize digital commerce, watch the webinar on "How to Drive Next-Level Digital Commerce" with speakers from Ethan Allen and Econsultancy.
author
Erika Goldwater, CIPP

Director of Global Communications

Erika Goldwater is the director of global communications for inriver. An industry veteran, Erika lives and breathes B2B marketing, content, public relations, and data privacy. She's a Boston marketer who hails from Baltimore.

read more