5 Ways to prepare for the next generation of savvy shoppers
blog
April 16, 2019
What will the next generation of shoppers mean for e-commerce? Don't wait too long to find out what drives their preferences and behaviors.
Generation Z and Generation Alpha are already making purchasing decisions, despite their young ages. According to a recent survey by inriver, their shopping habits will be different from any age group before them. The time for brands to prepare is now.
Out of 4,000 consumers in the United States, 53% of all shoppers are most likely to search Amazon first when they want a product. However, that percentage steadily decreases the younger the shopper. The trajectory is clear – the youngest generations of consumers will continue to rely on more and more outlets to drive purchase decisions.
Based on new data, here are five tips to help you prepare for the expectations of the up-and-coming generations of shoppers:
1. Keep your product information at the heart of everything you do
When shopping online, what a customer buys is pure information. No product has changed hands yet, so customers will base their decisions on the quality, and consistency of product descriptions, images, and reviews.
"The youngest generation of buyers surveyed (16-24) is the least likely of all age groups to search Amazon first. They are most likely to turn to other sources, including product review sites, YouTube, and individual brands' websites." (Click to tweet)
2. Make sure your website is stellar
There's no sugarcoating it – website overhauls can be tough. However, trends indicate that shoppers are going to be more likely to go directly to a brand's website in the future, so the time to invest in a sleek design and an optimized customer journey is now.
3. Invest in SEO
With more digital touchpoints than ever before, making sure you appear where your audience is has never been more important. Paying attention to the highest-ranking keywords and investing in a program to maximize those keywords in your content and paid search strategy will allow you to do this.
4. Gear up for voice commerce and ROPO
Considering everything else marketers have to focus on, preparing for voice commerce feels like an easy item to deprioritize. Voice assistants are still getting the whole shopping thing figured out, right? Amazon dominates this market and leads with their own products if the consumer doesn't specify a brand anyway, right?
Yes, on both counts. But, as we've learned time and time again, technology moves fast. Amazon won't be able to monopolize the product landscape forever, and eventually, voice assistants will make decisions about what product is best for their consumers based on which has the most accessible information. Better to be ahead of the game than too late.
Also, many consumers are marrying online and in-person product perusal by researching products online and purchasing offline (ROPO). According to our research, more than half of shoppers research products online while in store, and the number is significantly higher for the 16-24 and 25-34 age groups.
 
"While more than half of shoppers (55%) research products online while in store, the number is significantly higher for the 16-24 (nearly 70%) and 25-34 (67%) age groups." (Click to tweet)
The rise of ROPO is yet another reason to make sure your product information is consistent across platforms for consumers who are looking for a quick snapshot of information online.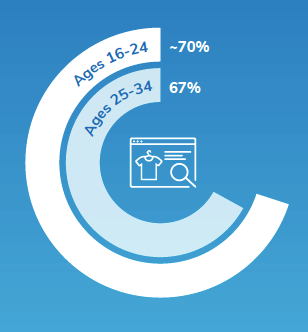 ROPO image Turning Browsers into Buyers report US version 2019
5. Optimize your returns process
Currently, more than half of 16-24-year old's buy with the intent to return, and that number is on the rise.
Smart brands will embrace returns and actually use the process as yet another touchpoint in their omnichannel strategies. Profit margins and revenue matter, but if used properly, returns are a great way to get context about what customers actually want.
 
"The majority (57%) of 16-24-year-olds report they buy with the intent to return, while only 19% of shoppers ages 65+ say the same." (Click to tweet)
These five tips are crucial for marketers to keep in mind as the next generations of shoppers grow into who they will become as consumers.