3 B2C ideas to enhance your B2B commerce strategy
blog
May 26, 2020
Forget the differences between B2B and B2C and just deliver a great customer experience. Learn how to start.
There's always been a gap between B2B and B2C strategy. As B2C brands rushed to adapt to consumer trends toward mobile browsing and e-commerce, the B2B commerce world remained largely unchanged. They continued to rely on custom sales cycles and more traditional high-touch processes. But times have changed, especially now in May of 2020.
Trends in consumer behavior don't just impact B2C brands anymore. In fact, the global B2B e-commerce market is a trillion-dollar opportunity that many companies aren't taking advantage of. One study found that 61% of manufacturers and almost 40% of wholesalers still don't have an e-commerce website of their own. Unfortunately, this fact heavily impacted companies when the pandemic hit. If you were not optimized to sell online, you were most likely not able to sell at all. Today's commerce is dependent online sales and recent studies show that changes made recently to enable e-commerce aren't likely to revert anytime soon, if at all.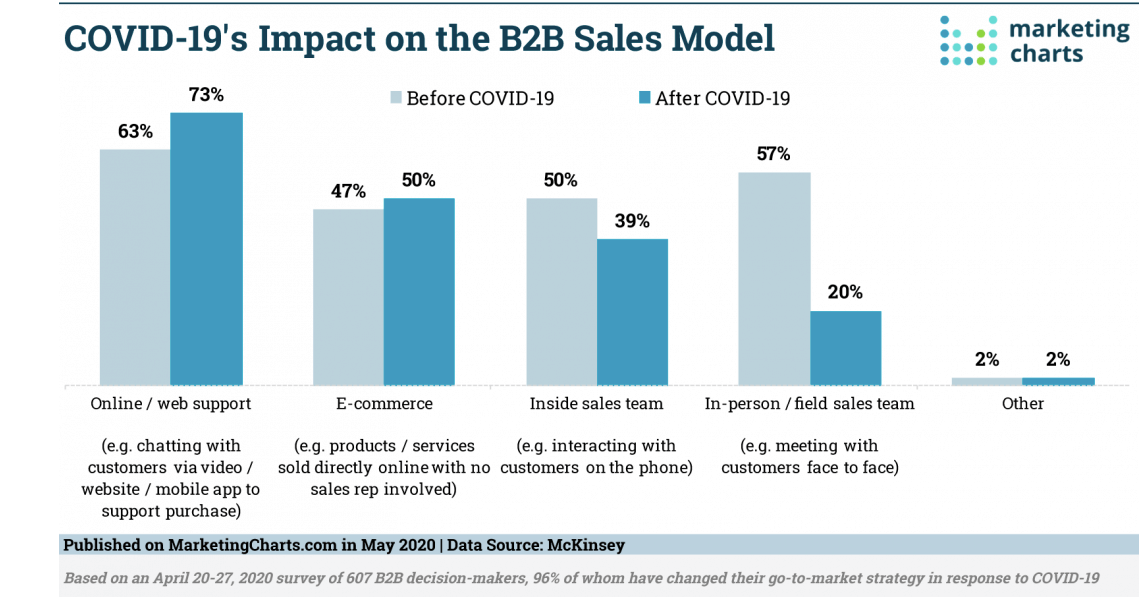 The wall between B2B and B2C is breaking down. And by focusing on the following three B2C principles, you can unlock the revenue potential of B2B e-commerce.
1. Prioritize the customer experience
B2B brands can no longer rely on geographic location, product specialization, and price as their primary differentiators. The shift to B2B e-commerce has opened your customers to a wider world of options, leaving customer experience as the primary way to stay ahead of global competitors.
Your customers are looking for the same experiences they get from B2C brands—ones that deliver convenience, consistency, and seamlessness in an omnichannel package. Making your products available to customers no matter where or when they want them is critical. Offer everything your buyer needs to make a purchase decision without having to speak to a sales representative. And, make it easy to find, informative, and creative if possible. Remember, B2B doesn't have to be boring.
Traditional B2B brands aren't necessarily set up to manage the ever-growing number of channels and marketplaces they need to support these days. Prioritizing the customer experience means being able to alter backend processes to embrace change when needed and doing it quickly. Speed is an important aspect of delivering a great experience.
2. Embracing rich content
High-touch sales have always been a point of emphasis for B2B brands. If you could get buyers on the phone with your sales team, you could lean on the ability to foster personal relationships to increase revenue and loyalty. But today's buyers are looking for more self-service options, and face-to-face meetings are not an option at the moment. This means you must find ways to create a "high-touch" sales feel in e-commerce.
Content is your primary tool for engaging B2B buyers that are interacting with your brand digitally. While you may have detailed product information already, it's important to go the extra mile to make your brand stand out on an increasingly crowded digital shelf. In B2C retail, for example, rich content might mean having detailed images that give customers an idea of how a product will look and feel. For your B2B brand, it means including technical specifications, explanatory videos, and customer testimonials to add context to an individual product.
With rich content, you're able to tell a more detailed and engaging product story that makes buyers feel more confident in your brand without ever speaking to a salesperson. It also enables guided selling opportunities, giving customers all the information necessary to go from research to consideration to purchase without needing to leave self-service channels.
This may seem easier said than done as you try to navigate a new landscape of channels. However, investing in the right technology will help you centralize product information so you can focus on publishing valuable content instead of worrying about how you're going to push it to all of the necessary platforms.
3. Leveraging customer data
In recent years, B2C brands have become masters of leveraging an abundance of customer data to guide their sales, marketing, and product development decisions. There's no reason why B2B brands can't follow suit.
You've already collected more than enough data in your CRM and ERP. You just need to sift through it all to uncover actionable insights that tell you how to streamline the path to purchase. Despite the shift toward self-service e-commerce, the B2B buying process is still complicated, involving multiple decision-makers across departments. Customer data will give you insight into the points of friction in purchasing your products, helping you create a list of action items to adapt to the needs of your buyers.
Customer data also plays a critical role in personalizing customer experiences. Knowing exactly what information individual customers need and when they need it can help you build stronger relationships that stay intact as global competition increases.
Using product information to adapt to B2C trends
The reality is that simply having a presence on e-commerce platforms isn't enough to maintain success in B2B markets. By improving your product information, you can take advantage of B2C trends that will make your brand stand out as more of your business shifts to e-commerce.
Embracing these B2C trends will safeguard your revenue and help you scale your global business.
To learn how some brands are already doing this, download our research report, How B2B Companies Solve the Challenges of Revenue and Scale with Better Product Information.