21 essential e-commerce statistics to help drive more conversions
blog
August 9, 2018
Every year technology gets more advanced, more multifaceted, and more pervasive. Stay ahead of the curve with the e-commerce stats you need to know to make better decisions.
Alexa, play "Changes" by David Bowie.
Every year, technology gets more advanced, more multifaceted, and more pervasive­. As that happens, the roles of e-commerce platforms become increasingly crucial for businesses seeking to meet their buyers anywhere and everywhere.
The largest country driving e-commerce is still China (Alibaba Group is only part of it), with annual online sales nearing 700 billion USD, but the US is picking up speed. With the help of industry leaders Amazon and eBay, the US e-commerce sector is growing tremendously — by almost 15% annually — and the forecast for the future is more of the same.
Of course, "the same" isn't really the same: it's growth and change like we've always experienced. 2018 is revolutionizing the way consumers and companies communicate, sell, browse, and buy. To help you keep up, we've compiled a list of the 25 most important e-commerce statistics and trends to pay attention to this year.
What matters most
1. After price, the top three most important factors to consumers when they shop online have to do with the website's design and functionality. 80% of consumers say the price is very or somewhat important to them, with easy product search capabilities (78%), site performance (78%), intuitive site navigation (75%), and a speedy checkout (75%). 72% also said that customer product reviews were important to their online shopping experience.
2. 68% of consumers are more likely to trust a brand online when they see both positive and negative reviews, whereas 95% will suspect censorship or fake reviews when they don't see bad ratings.
3. Less than 1% of consumers leave a site after seeing a badly-reviewed product, indicating that bad reviews don't deter customers from a brand, but rather direct them toward things they will like.
4. 69% of people find UGC (user-generated content) more authentic and therefore trustworthy than brand-created or stock images.
B2C e-commerce
5. The four leading e-retail categories in the US in 2017 (by sales) were consumer electronics at $54 billion, clothing at $48 billion, and furniture/homeware and hobby/stationery at $38 billion.
6. The leading online marketplaces in the US by e-commerce sales last year were: Amazon, Inc. (55 billion USD), Walmart (14 billion), and Apple and The Home Depot (6 billion).
7. An emerging trend in online retail is visual search capability. In a 2017 survey, 35% of millennials and 30% of Gen X-ers expressed interest in being able to search for products in a physical store or online catalog using images, videos, etc. This is becoming increasingly present, with brands like eBay and Pinterest implementing visual search tools on their apps and websites.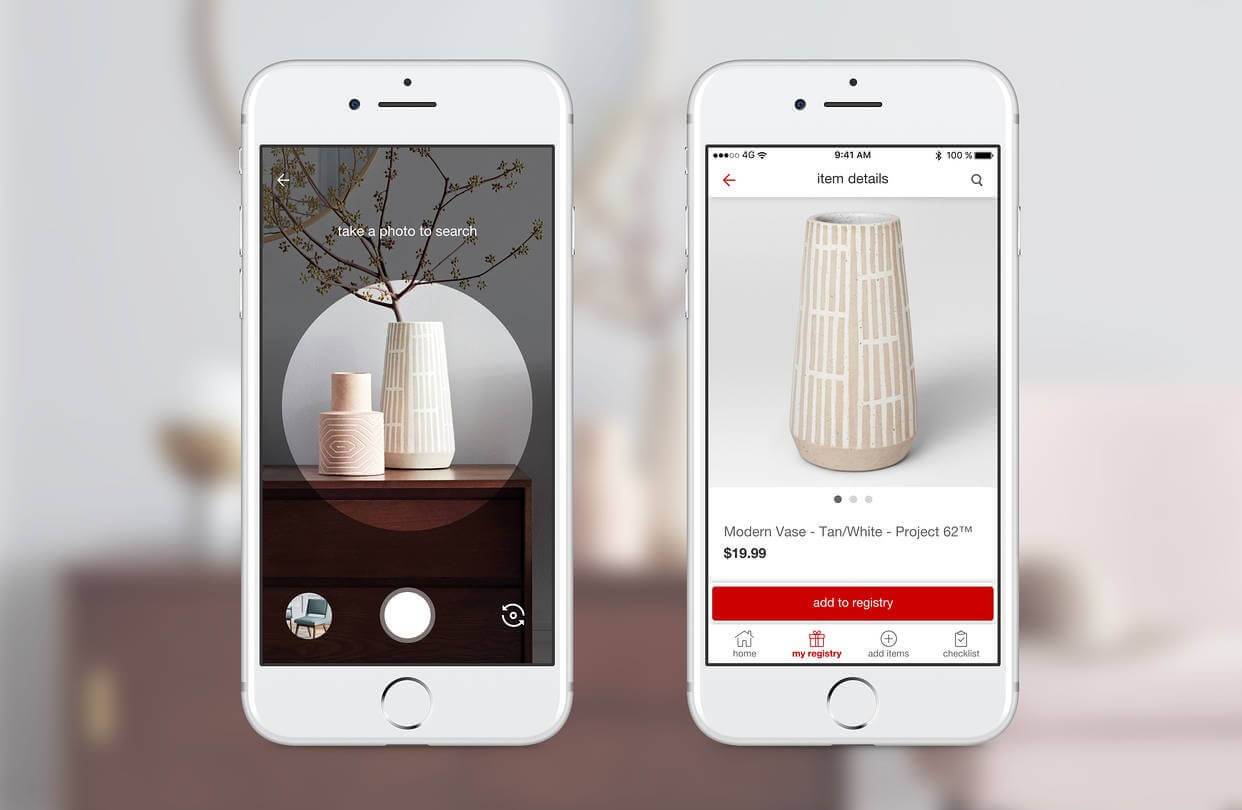 Pinterest's visual search tool is now being used on the Target app. Users can find items similar to those they see and like by simply taking a picture of the item in-app.
8. 81% and 80% of respondents in a study, respectively, said email marketing drives customer acquisition and retention. Email's usefulness was followed by that of other digital tactics like organic search at 62% for acquisition and social media at 44% for retention—both rated effective by far fewer respondents than chose email.
B2B e-commerce
10. The average B2B buyer/researcher is younger than 35 years old.
11. Forrester estimates that by 2021, B2B e-commerce will reach $1.2 trillion and make up 13.1% of all B2B sales in the US.
12. The online share in the B2B market is currently just 2-3%, compared to the 12-15% share in the B2C market.
Mobile commerce trends
13. The most important e-commerce functions to B2B marketers are mobile support (with 98% responding that it is either critical or important) and product management (97%).
14. Google recently switched to mobile-first indexing, meaning the search engine will use the mobile version of a website to rank the site and understand its content. This is a response to the shift toward most users accessing Google via their smartphones versus a desktop.16. 42% of B2B buyers use a mobile device in the process of researching their purchase.
15. Purchase rates on mobile have increased 22% in the past 2 years.
16. Last year, at $156 billion, mobile retail commerce made up more than one third of all retail e-commerce sales.
17. Mobile payment systems (such as Apple Pay and PayPal) are gaining traction for their convenience. The number of people using these systems surpassed 100 million in 2017 and is expected to reach 150 million by the end of 2020—which at that time will be 56% of the consumer population.
E-commerce in the research process
18. More than half (55%) of Americans begin their product searches on Amazon, whose sales comprise 44% of all e-commerce sales in the US. The second is eBay, with a share of only 7%.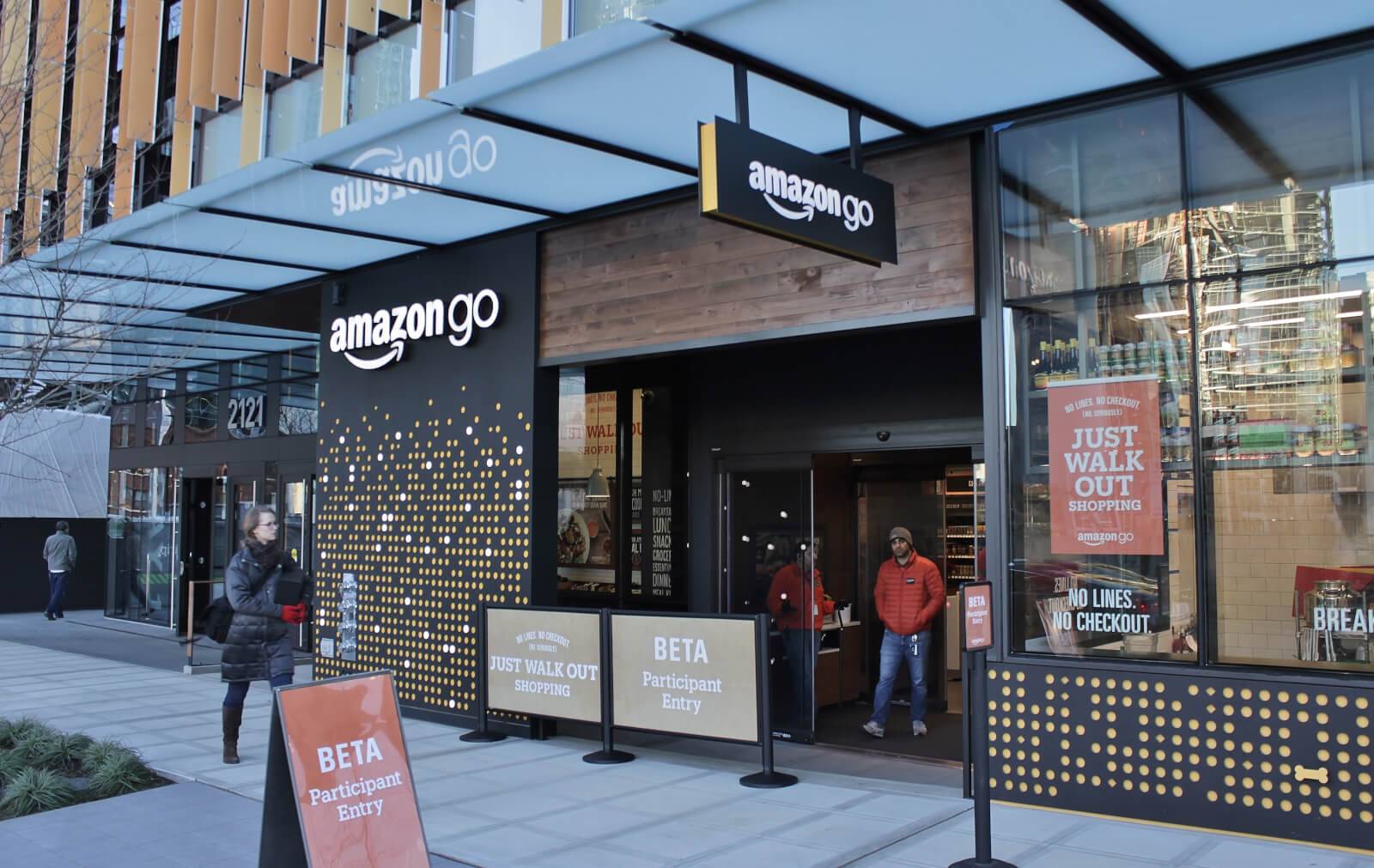 Amazon in brick-and-mortar: At an Amazon Go store in Seattle, WA, customers link their phones to their Amazon accounts to enable automatic scanning and purchasing of the items they take out of the store.
19. 71% of B2B buyers begin their online research process with generic and organic searches regarding their needs. On average, they don't engage with a specific vendor's website until 12 searches in.
20. Buyers research online even when they purchase products offline. A survey revealed that 98% of global business buyers do at least some online research on work-related purchases that they complete in person.
21. A company's website is the number one place for consumers researching a product to get information, with 74% of consumers using it as a resource, while the second biggest research touchpoint is email, at 43%.
The reality is that e-commerce is not what it once was. Building sites and processes that engage buyers and drive revenue means building product content that first attracts buyers, then tells them everything they need to know, to learn, to "see" and to touch to help them convert.