2021 IDC MarketScape for PIM applications for commerce
report
IDC names inriver a leader in the global PIM landscape. Read the full report to discover why.
download
inriver named a leader by IDC
For the second year in a row, inriver has been named a leader in the annual IDC MarketScape for PIM applications for commerce. According to Jordan Jewell, research director, digital commerce at IDC, "Inriver's leader position holds strong because of its ability to solve the evolving challenges of commerce today. A scalable and flexible PIM solution is essential to drive revenue at scale."
our PIM solution received positive feedback for
Ease of use: Our updated user interface helps customers use inriver as a foundation for their digital commerce solutions across a range of industries. It's also built especially for marketers (not technical experts), which makes it easy for even the largest organizations to manage.
Digital shelf analytics: Our recent addition of digital shelf analytics capabilities helps customers identify and fix common challenges like stock-outs, missing product information, and pricing issues to help them close the revenue gap.
Built for the future: Our PIM solution is designed to support the evolving needs of our customers and partners. In the IDC report, one of our partners commented that "Their core data model is extremely future-proof as it allows you to be very dynamic and onboard different data sets."
If you're searching for the ideal PIM solution for your company, read the full report an excerpt of the report to learn how inriver compares to the rest.
about IDC MarketScape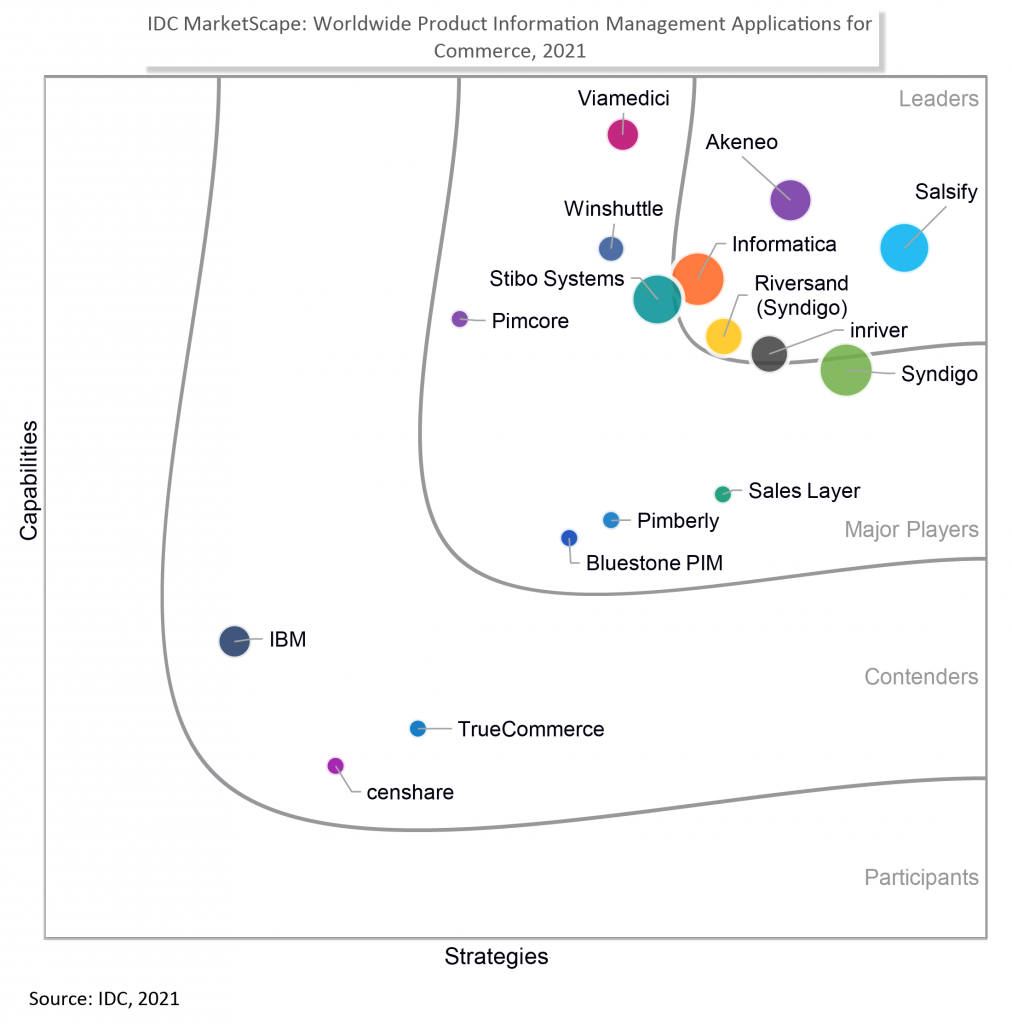 IDC MarketScape vendor assessment model is designed to provide an overview of the competitive fitness of ICT (information and communications technology) suppliers in a given market. The research methodology utilizes a rigorous scoring methodology based on both qualitative and quantitative criteria that results in a single graphical illustration of each vendor's position within a given market. IDC MarketScape provides a clear framework in which the product and service offerings, capabilities and strategies, and current and future market success factors of IT and telecommunications vendors can be meaningfully compared. The framework also provides technology buyers with a 360-degree assessment of the strengths and weaknesses of current prospective vendors.
get the full report
Thanks for your interest!
An e-mail with your requested content is on its way to your inbox.
Something went wrong
Please try again in a moment.